How are you developing executives with the right blend of IT and business experience?
We often put a technology support organization around a business process, and the two teams work so closely together that they become one and the same organization. It becomes hard to see the boundaries between who is reporting to me as CIO and who is reporting to the business process leaders.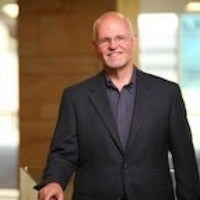 We also take strong IT leaders and put them on a tour of duty for a year in product management or financial planning. If you are working with an organization that has some size, you can manage through the missing headcount. You have to take the longer view that while you are missing organizational strength, you are gaining IT leaders with business experience. Will you miss your IT leaders when they move into another area of the company? Sure. But if you can sustain it, your organization will be stronger for it. Likewise, we often take people from finance and product management roles and put them in IT for a year.
What is the secret to engaging your business colleagues in the successful execution of "IT" projects?
The projects we work on are business projects, not IT projects. If you approach a project from the perspective that the entire team, whether or not they are in the IT organization, is driving for business outcomes, you should not have a problem engaging your colleagues. It's pretty simple: you set the goals, decide who is responsible for what, shake hands to confirm those decisions, and proceed with transparency.
How do you solve the "innovation v. operations " paradox? In other words, how do you respond to new business demand when you have to spend so much on maintenance?
If you have the vantage point that these are business projects, then the demand should not be for new technology, it should be for improved business processes. I'm not saying executives will never say, "I read about this new technology and I want it." That happens all the time. But the trick is dissuade your business leaders from asking you for "big data." That's meaningless. But if they say, "I need better insight into student behavior to improve student outcomes," Now, we're talking. You don't go to the doctor and say, "I need this prescription." You say, "I want to cure my sore throat," and you let the doctor do his job.
In terms of innovating and operating at the same time, you do have to keep the wheels on the bus. Wouldn't it be nice to shut down the entire university while we retool the classroom? Yes, but it's not going to happen. The key is finding the mechanisms that allow you to pull costs out of your operations in order to drive business value. It's about having those open transparent conversations that allow you to slow up on minor enhancements so that you can drive all investments into a new opportunity where the rewards are greater.
If you drive everything from the perspective that this is a business project, with a good business case, you will be successful. With a few small exceptions, the business should develop and own the business case. Sometimes, as technologists, we can help to write it – and we want to own the technology cost piece of the business case. But, I don't want to be the one to tell finance how much they'll save with a new system. They need to own those numbers.
How do you build a culture of innovation into your IT organization?
Innovation is a funny thing; it comes in little bits and pieces. If you set up a separate innovation organization to focus on the next big idea, then you miss all of the little opportunities for innovation. Sometimes innovation comes from new ways to approach mundane problems, and that's where you generate a ton of value. Innovation can also come from outside the company. Talking to IT people in dissimilar industries is a great way to spark innovation in your own. We just compeleted a massive data center modernization exercise and are building a private cloud architecture. Our team talked to technology people in two very large financial services companies, even though our business has nothing to do with financial services.
What piece of career advice have you been given that you would pass onto others?
When I worked at Bell Labs a long time ago, I was in middle management, and I saw that one thing that always caused angst among employees was organizational ambiguity or disruption. People put a lot of importance in who they report to, and they get upset when that reporting structure changes. When I discussed this observation with a senior leader in the company, he said that people need to understand that an organizational structure is a temporary aberration designed to drive a business outcome. He said, "Don't worry about the reporting structure and whether it's changing. The best organizations are the ones that are always reinventing themselves. " This revelation was so illuminating for me. It took the straps off of my shoulders. It unbound me from the angst that comes with organizational change. It allowed me to see change as an opportunity to innovate, build new relationships and find new way to serve the business.
About Michael Sajor and Apollo Group
Michael Sajor was appointed Chief Information Officer at Apollo Group in May 2012. Sajor previously worked at Ann Inc., whereas CIO he delivered a highly leveraged IT convergence strategy, developed and implemented an IT transformation strategy through extensive sourcing, and created a global enterprise IT innovation strategy. Sajor also was accountable for strategy and execution of Ann Inc.'s applications and technology portfolio, including global realization of IT services, software, systems, and store services. Before joining Ann Inc., in June 2007, Sajor was a senior IT executive at Merck and Company, where he directed strategy and delivery of network, databases, business intelligence, web, and infrastructure shared services worldwide.
Apollo Group, Inc. is one of the world's largest private education providers and has been in the education business for more than 35 years. The Company offers innovative and distinctive educational programs and services both online and on-campus at the undergraduate, master and doctoral levels through its subsidiaries: University of Phoenix, Apollo Global, Institute for Professional Development and College for Financial Planning. The Company's programs and services are provided in the U.S.; Puerto Rico; Latin America; and Europe, as well as online throughout the world.