WinZip has been a handy—for some people, essential—file-compression utility for a long time. Have a bunch of files to email to someone? Just use WinZip to compress them into a zip archive and send them on their merry way.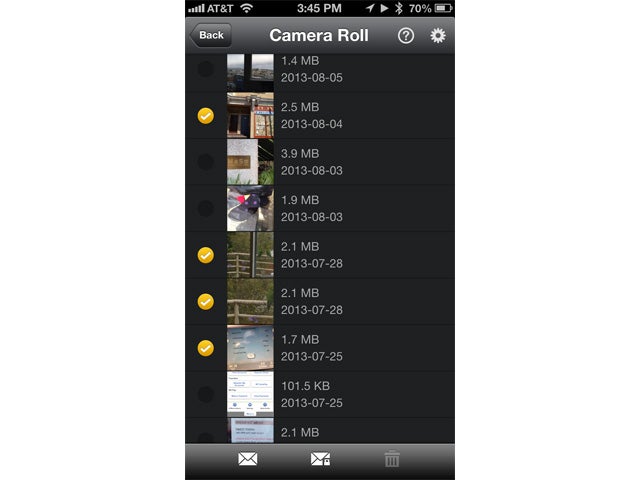 WinZip just became even more valuable to mobile professionals, thanks to a new $5 iOS app for iPhones and iPads that was released August 7. The WinZip "full version" lets you create unprotected or encrypted zip archives of photos and documents for sharing via iDevice. You can also use your iOS device to open and view zip archives containing files in a variety of formats.
In comparison, both the free WinZip app for iOS, updated on August 7 with easier archive opening and file viewing, and the WinZip Android app (the current version is dated July 9), only let you open zip archives to view files.
An obvious use for the paid WinZip app is to package a bunch of iPhone photos for emailing. Photos are often large files, and the WinZip app compresses them for faster, more-efficient sharing. I didn't notice any image degradation from WinZip compression, but a better-trained eye might.
If the photos are "sensitive"—insert Anthony Weiner joke here—you can protect the archive with 128-bit or 256-bit AES encryption. The app supports both the common .zip and the more recent .zipx file formats.
Using WinZip free or paid, you can open WinZip archives emailed to you using your iDevice. After opening a WinZip archive using the app, you can click to select any of its files and open them in the supported apps on your device. For example, on my Mac I created a WinZip archive containing a password-protected Word doc, an Excel spreadsheet, a PowerPoint presentation and a PDF file. Then I emailed the archive to my iPhone. I had no problems opening and viewing any of the files on my iPhone, including the password-protected Word file.
Let's say you have some Word documents in your Dropbox account that you want to send to someone. On your iPhone, you just open the Dropbox app, find the file you want to send, and open it in WinZip. To send another file to WinZip, repeat these steps. When all your files are in your "My Documents" folder in the WinZip app (where they end up by default), you can click to select them, then choose the email-sharing option you want—regular or password-protected.
If you deal with documents a lot and are frequently on an iPhone or iPad, the full version of the new WinZip app is well worth $5.