BlackBerry's once-popular BlackBerry Messenger (BBM) mobile chat app has been coming to iOS and Android for years. At least if you paid any attention to Ye Olde Rumor Mill.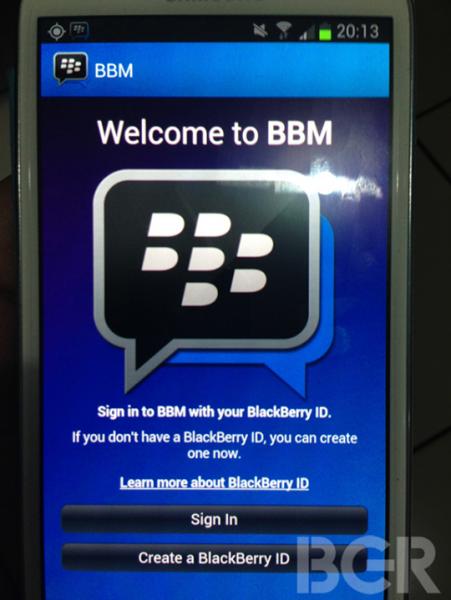 But the news became official last May, when BlackBerry announced that it would bring cross-platform versions of BBM to iOS and Android in late summer 2013. It's still not clear when exactly these apps will be available. But today BBM for Android invites are reportedly going out to users of BlackBerry's Beta Zone prerelease app-testing service. And a purported screen shot of BBM for Android also hit the Web.
I've been a loyal BlackBerry user for years. Today, I carry both a BlackBerry and an Android device. I think BBM is, or was, a great app. But I don't think I'd use it on Android. As long as I carry a BlackBerry, I'll just use BBM on that platform. Even if I ditched my 'Berry, I'm not sure I would use a cross-platform version of BBM. I think I'd just use another chat app, like WhatsApp or Kik, or text message.
I realize the latest version of BBM lets you place video calls and share screens with other BBM users, and that's admittedly pretty cool. But it's unclear whether or not the cross platform versions will offer the same functionality, and I'd bet the first couple of releases will be limited in some capacity.
What say you, iOS or Android users? Vote in the poll below and let me know. Please.
AS
Image via BGR