An app that redefines and gives you more control over your Android home screen. A beautifully redesigned photo-sharing app for both Android and iOS. And an iOS app that's a bit hard to describe, but easy to love.
These are three of the six winners in the summer 2013 roundup of my favorite iOS and Android apps. In tomorrow's post, I'll spotlight three more.
Before I get into the apps, three quick points: 1) This is a highly-subjective list, and the main criteria is that the apps have staying power. I've returned to them multiple times. I delete the majority of apps I review just a few days after writing about them. 2) Some apps in my roundup are brand new, and others recently received significant updates. 3) Apps are listed in alphabetical order.
Android Only
Free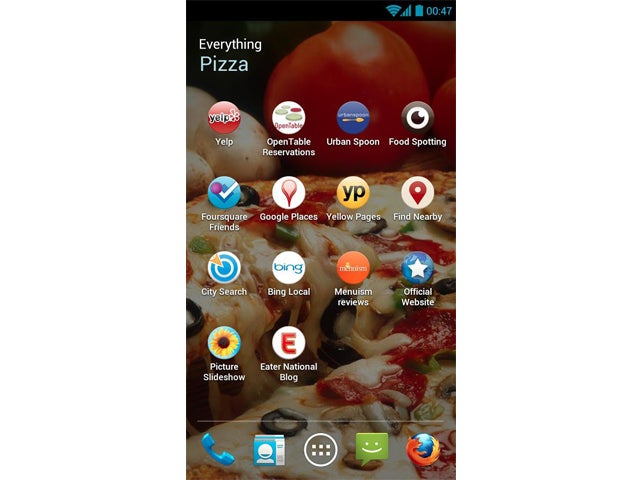 Facebook Home wants to take over and redefine your Android home screen. But before you surrender that prized real estate, give Everything.me Home a try.
Everything.me Home puts an extremely-thorough search engine on your home screen, along with a large "What's on your mind?" box. Tell it what you're interested in – pizza, for instance – and suddenly, your home screen is all about pizza, complete with a related photo as temporary wallpaper. Apps on your device that contain related information, such as OpenTable and Yelp for pizza restaurant reservations and reviews, are spotlighted. If you open one of the apps, you see relevant information—a listing of nearby pizza joints, for example.
The app, which is still in beta, is only available in the United States, Canada, the United Kingdom and Spain. And because Everything.me Home takes over your home screen, you have to manually add your app icons and widgets. But it's worth it. Everything.me Home is cool, convenient and addictive.
Flickr
Free
Flickr was looking like Instagram's roadkill until this spring when Yahoo did something crazy: It gave Flickr users 1TB of free storage space. At the same time, the Flickr Android app received a major makeover designed to make it look more like its alluring iOS sibling.
The app's home screen is a beautiful, enticing mosaic of your Flickr contacts' photos or pictures from other Flickr shutterbugs. The software has lots of filters and editing/enhancement tools, including the ability to draw on and add text to your pics. There is room for improvement—reviewers on Google Play have rightly complained that there's no bulk-upload feature. And, frankly, Flickr may never outrun Instagram in the photo-sharing popularity contest. But if nothing else, Flickr is fun to use and it's a great place to back up your pics.
iOS Only
Free
IFTTT is kind of hard to describe, but here goes. (IFTTT stands for "If This Then That.")
IFTTT lets you link two disparate Web services or apps to create an automated action between them. Want your new iOS Contacts backed up automatically in a Google Drive spreadsheet? IFTTT makes it happen. Hoping to upload new photos taken on your iOS device to SkyDrive without thinking about it? IFTTT has it taken care of.
Some might call these automations "hacks," but don't let that description scare you. They're super easy to create—especially with IFTTT's new iPhone/iPod touch app. Alternatively, you can take advantage of hacks—which IFTTT calls "recipes"—that other users created.
The iOS app puts all the IFTTT website's power in your hand. And it makes it easy to set up and create tasks with big, touchscreen-friendly buttons.
IFTTT is a rarity: an app that both saves you time (through automation) and inspires you to spend lots more time experimenting.