I recently spent a weekend with an old college friend in Charleston, S.C., where I'd negotiated a good hotel deal—or so I thought—two months in advance of our stay.
Hanging out by the hotel pool one afternoon, I struck up a conversation with a young couple. Turns out, they got a better room at a much lower rate than I did. How? They booked it at the last minute using Hotels.com's mobile app.
I'm not really a make-reservations-at-the-last-minute-kind-of-guy. But if you're willing to play that game and assume some risk, another, similar mobile app, called Hotwire, which recently updated its iOS app to take advantage of iPad screens, could also be perfect for you.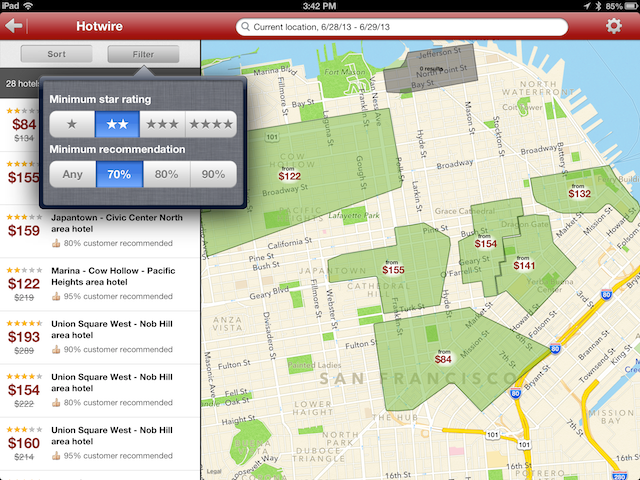 Hotwire gets you get discounts at hotels that are trying to fill up available rooms at the last minute. Unfortunately, you don't know the hotel's name until you pay up front for a non-refundable reservation. That's where the risk comes in.
The good news: Hotwire's iPad app is good looking and easy to use. The app displays a list of hotels on the left of your tablet's screen. To the right, there's a map that shows hotels' general locations.
The listing for each hotel includes main amenities, such as fitness and business centers; a star rating based on customer reviews; hotel chains that are representative of specific star ratings; and reviews. You can filter hotels by star rating and minimum recommendation, and you can sort by price, star rating and distance from your GPS location.
Hotwire isn' the only player in the last-minute-hotel-deal game, of course. Other similar free apps:
* Priceline for iOS and Android app has a snazzy interface, but its hotel map is cluttered until you zoom in closely;
* Hotels.com for iOS and Android serves up "Tonight's Local Deals," which are only available to mobile users;
* Hotel Tonight for iOS and Android promises a "vetted" assortment of hotels for last-minute deals;
* And if you're looking for last-minute deals at "premium boutique hotels across Europe," Blink for iOS and Android is the app for you.
All of these apps can be useful, but they can also quickly turn finding a hotel-room bargain into a science project. In general, I'd stick to one or two apps: Hotwire if you're willing to take a little risk, Hotels.com if you're not.