The wait is over. Microsoft today released Office Mobile for iPhones, and it is now available in iTunes. The app includes iPhone-optimized native versions of Word, Excel and PowerPoint, so you can now create and edit native Office documents on the go.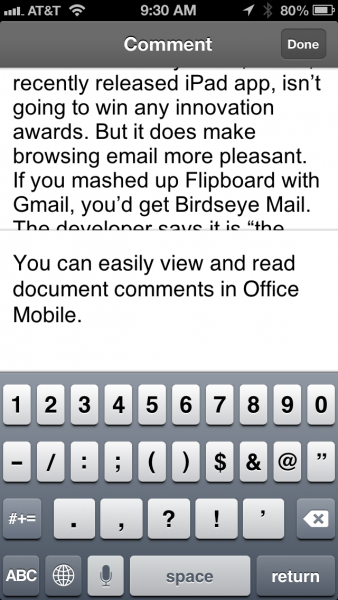 Unfortunately, the app's cons kind of outweigh its pros at this point. I'll get to specifics soon, but first, a little back story.
Bloggers and media types, including me, have long wondered if and when Microsoft would release an official Office suite for iOS. After all, Office is a big moneymaker for Microsoft. And at a time when the company is trying to build momentum and a user base for its Windows mobile OS and devices, it doesn't exactly make sense for it to release inexpensive versions of Office for competitors' platforms.
Microsoft's prior reluctance to release Office for competing platforms created a cottage industry of Office-compatible apps for iOS and Android. Some, like Apple's iWork apps Pages, Keynote and Numbers ($10 each for iOS), enable you to open Office files, make edits and save them back to Office file formats on your iOS devices. Others, like CloudOn for iOS and Android, deliver native Office suites to your mobile device in virtualized environments—which require an Internet connection.
With Microsoft Office Mobile, Microsoft came up with a clever solution to this competitive conundrum. Though the iPhone app is free, you must be an Office 365 subscriber to use it. So instead of giving away the keys to its Office kingdom, Microsoft hopes to lock iOS/Office users into Office 365.
Office 365 is Microsoft's alternative to boxed software licenses. Subscribers download Office for their PCs or Macs. For an ongoing fee, you get free upgrades as they become available, and you can install Office on multiple computers. The least expensive plan is Office 365 Home Premium, which costs $10/month or $100 a year.
To fully use Microsoft Office Mobile you'll also need a SkyDrive, SkyDrive Pro or SharePoint account. That's because the app needs a cloud repository to retrieve and store your files. Fortunately, Microsoft offers 7GB of SkyDrive storage for free, and additional storage is inexpensive.
Now, the pros and cons of Microsoft Office Mobile.
The Cool Stuff
* Office Mobile does a good job of retaining file attributes, including fonts. By comparison, document fidelity in Office-compatible apps is sometimes compromised.
* Word, Excel and PowerPoint have been nicely optimized to work on iPhone screens. For instance, you can easily view PowerPoint slides along with their speaker notes.
* Once you open a file from an email attachment or supported cloud storage, Office Mobile saves a local version on your iPhone. So, for example, it's no problem if you need to make edits on a plane without Wi-Fi.
* Microsoft did a stellar job supporting document comments. You can view and add comments to Word and Excel documents. To add a comment, you tap the edit icon, then tap the spot in the document where you want to comment.
* A cool but unadvertised feature: You can create new Word documents in Office Mobile, then use iOS's voice recording feature to dictate text, including punctuation. It's a fantastic way to avoid tapping out text on the iPhone's virtual keyboard.
* In Office Mobile, Word documents open to wherever you left off reading them on a PC or tablet. Caveat: You must have Office 2013 on a PC for this feature to work.
* It's easy to add basic formatting to text, including bold, italics, underlining, strikethroughs and highlights.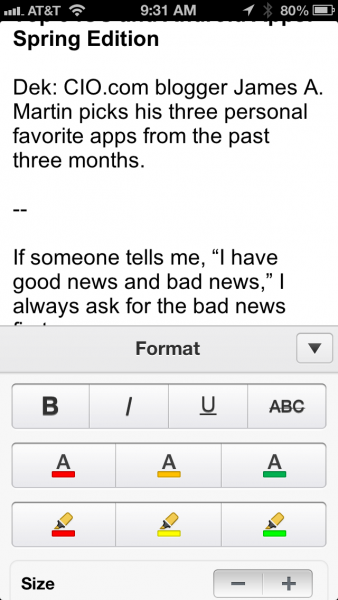 The Disappointing Stuff
* In Office Mobile, there's no way to search through all your SkyDrive or SharePoint documents. Also, files are listed within folders alphabetically only. You can't, for instance, sort files by date. Finding the files you want to edit can be a chore. You can do searches within a file, however.
* Word's Track Changes feature isn't supported. That feels like a big omission to me.
* Although Microsoft shows a Word file with an image being edited in the screenshots on the Office Mobile iTunes page, I was unable to edit Word files that contain images.
* There's no Android version. Microsoft wouldn't say if or when an Android Office app might be released.
* There's no iPad version. Microsoft wouldn't say if or when iPad support might become available either. A Microsoft spokesperson told me that Office Mobile is meant for "light editing" on iPhones. For a bit more robust mobile editing, Microsoft offers Web versions of Office, which you can access by opening a SkyDrive-stored file in your iPad or Android tablet's browser.
* Not surprisingly, there's no support for Dropbox, Box or any other cloud-storage/sync services. File this under "Makes Sense for Microsoft, But Not for Users."
* You can create new Word and Excel files, but not PowerPoints.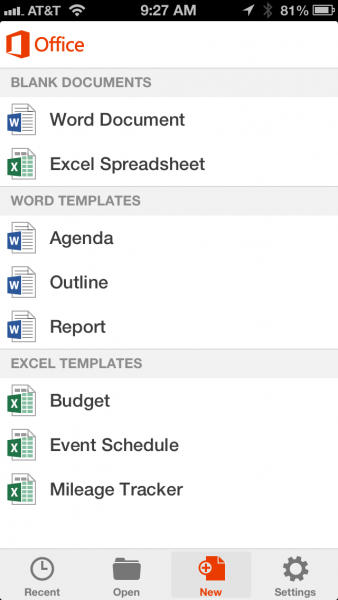 * Some documents were slow to load, even though I was on a fast Wi-Fi network.
* Office Mobile has a "Recent" tab, which gives you access to files you opened recently on your PC or your iPhone. But guess what? The "Recent" feature won't show documents you've opened recently on your Mac. Hmmm. Seems like a lot of iPhone users have Macs, too.
A Whole Lot of Ifs
If you're an Office 365 subscriber, if you keep your documents stored in SkyDrive or SharePoint, and if you sometimes have to make quick edits to Office documents on your iPhone, Microsoft Office Mobile is made for you. But that's a whole lot of "ifs." For anyone who doesn't want to jump through those hoops, I recommend Apple's iWork apps for iOS, Quickoffice Pro for Android, and CloudOn for both platforms.