Way back in the fall of 2011, BlackBerry, then RIM, and luxury (midlife-crisis) automobile-manufacturer Porsche unveiled the custom, BlackBerry P'9981, a special-edition BlackBerry Bold 9900 designed by Porsche. At the time, I blasted the awkward looking handset and wondered why anyone would buy such an ugly and expensive smartphone. (The P'9981 costs more than $2,000.)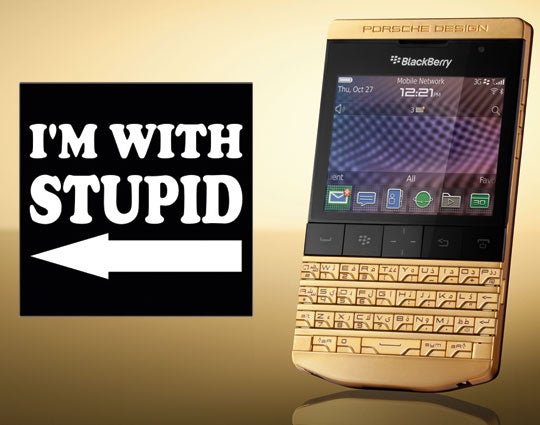 Since its announcement, I've seen and handled a few of the Porsche-designed BlackBerrys, and I've argued conversed with a couple of P'9981 owners about the absurdity of paying that much for what is essentially a BlackBerry Bold 9900 with a clunky, pricey costume. Of course, the P'9981 owners all told me I was crazy, and that they loved the device.
That's likely just what owners of the new, limited-edition Gold BlackBerry P'9981 will say when sensible folks question their purchases decisions—and overall mental health.
This new, gold P'9981 is super exclusive, and only 25 will be produced. The gadget is reportedly exactly the same as the original BlackBerry Porsche P'9981 except for a 24-carat-gold coating and a solid-gold, numbered camera plate. The device is expected to become available next month. No pricing information has been released, but does it even matter? Anyone who actually considers buying this thing probably doesn't care much about the cost.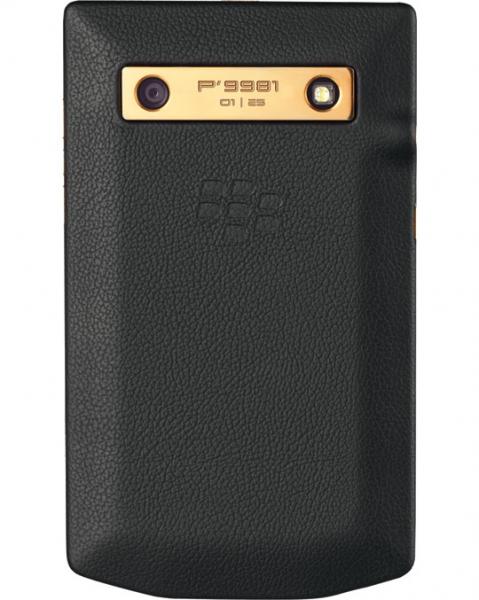 From Porsche Design:
"Exclusive materials have been used for this limited edition. The Porsche Design P'9981 Gold has a stainless steel case with a gold-coloured titanium coating. The case is also finished with a 24-carat gold layer. The phone features a keyboard that is perfectly tailored to the case, a crystal-clear touchscreen and a hand-wrapped leather back. The limited edition number is on the camera cover on the backside of the smartphone, and is milled from a solid block of 24-carat gold."
Just in case you're actually enticed by this description, here are four solid-gold reasons only a fool would purchase this device:
Both the hardware and software are outdated and practically obsolete at this point—at least if you have the money to purchase a high-end handheld;
The brand new BlackBerry Q10 and Z10 are much better devices, in terms of functionality and looks, and they're significantly cheaper, so you could do much better if you want a new BlackBerry;
The gold Porsche Design BlackBerry P'9981 is ugly as sin;
There are much better things to spend your hard-earned—or not-so-hard-earned—cash on than outdated, gaudy smartphones.
AS
Via Porsche Design