If you use more than one Google app — and who doesn't — your storage quota has been fragmented among them, making it hard to keep track of how much you space you have left.
That got a lot simpler this week, as Google said users can now store Gmail, photos and files in one 15GB bucket. That means you can allocate your storage among Gmail, Google+ and Google Drive anyway you want. If you run out of space, you can simply buy more and pay by the month.
Now instead of having a 10GB limit on Gmail and 5GB limit on Google Drive and Google+ Photos, users get 15GB overall.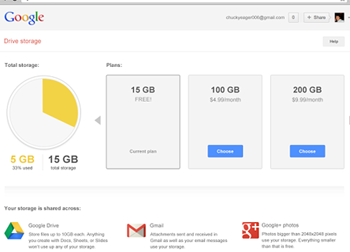 "With this new combined storage space, you won't have to worry about how much you're storing and where," Google wrote in a company blog post. "For example, maybe you're a heavy Gmail user but light on photos, or perhaps you were bumping up against your Drive storage limit but were only using 2GB in Gmail. Now it doesn't matter, because you can use your storage the way you want."
Another significant change is the ability to buy a lot more space for Gmail. In the past, users have been limited to 25 GB of Gmail. Now, users can buy as much as 200GB of storage for $10 a month and allocate all or part of it to Gmail.
"We'll also be making updates to the Google Drive storage page, so you can better understand how you're using storage space. Simply hover over the pie chart to see a breakdown of your storage use across Drive, Gmail, and Google+ Photos," Clay Bavor, Google's director of product management said in his post.
The new combined limit puts Google well ahead of other companies that offer free storage in the cloud. Dropbox gives users 2GB, Microsoft SkyDrive 7GB, and Apple iCloud, Amazon Cloud Storage, and SugarSync offer 5GB for free. It wouldn't surprise if those companies follow suit and up their limits as well.