I've spent a lot of time tinkering with BlackBerry smartphones, searching for hard-to-find or "secret" keyboard shortcuts. And some of my most popular BlackBerry tips and tricks stories have been based on BlackBerry keyboard shortcuts. (I've even tapped "mobile gurus" from notable organizations for their favorite BlackBerry shortcuts.)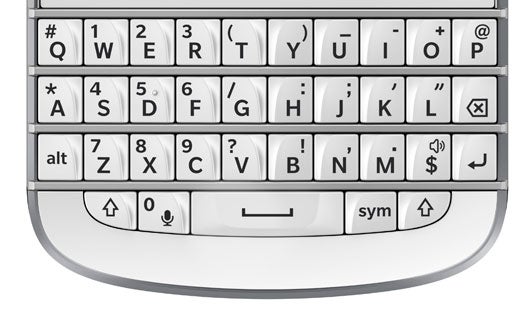 But BlackBerry saved me some time and effort last month when it passed along what it says is a full list BlackBerry Q10 keyboard shortcuts along with my Q10 review device.
The majority of the most-common BlackBerry keyboard shortcuts I've come to rely on in past devices work on the Q10. You can hit the link at the bottom of this post to open a PDF that contains all the BlackBerry Q10 keyboard shortcuts, or save the file to your desktop for viewing later.
I'm glad to see that BlackBerry built these valuable shortcuts in the new BlackBerry 10 OS. But it would be nice to see third-party developers incorporate more shortcuts into their apps. It's frustrating not to be able to use basic navigation shortcuts within my most-used apps, but hopefully additional shortcuts will come with future software updates.
BlackBerry Q10 keyboard shortcuts.
AS