The other day I was curious to see if any must-have new apps were released recently for Windows RT. (Call me a cockeyed optimist.) So I fired up my Microsoft Surface RT tablet and scanned the 99 apps in its app store's "New Releases" section.
Here's a sampling of what I found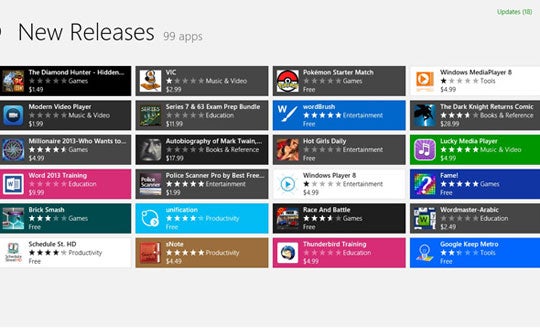 Perhaps the most noteworthy:
* Hot Girls Daily, a free app featuring a new photo every day of "one smoking hot girl" and yet another R-rated Windows Store app.
* Google Keep Metro, a free app for using the new Evernote-like Google Keep service, from a publisher called AliasWare, not Google.
* instagram For Windows 8 (free), published by "nadirakdag" and not an official Instagram app.
Are there any new, official apps from noted developers?
Two jumped out at me: HP Fan App (free), which is supposedly "the best way to keep up with all the new innovations at HP." In other words, it's an HP "fanboy" app. (Are there even HP fanboys? Really?) And then there's the Microsoft Corp. app (free) for Microsoft mavens. From the app's description: "It's about time you want to keep up with what Microsoft Corporation has to offer." Ah, yeah, okay.
Meanwhile, there are still no official Windows RT apps for LinkedIn, Facebook, Pandora, YouTube, Google Maps, Google Drive or Gmail.
Lenovo's Think PC and visual category manager recently said that Windows RT is not "what businesses want," and Net MarketShare says Windows RT has 0.00 percent market share.
Having perused the slim pickings (yet again) in the Windows Store, I couldn't help but wonder how much money I could get selling my used Surface RT tablet on Amazon.com. (The answer: about $400, significantly less than I paid for it).