It struck me right away: Facebook Home is a lot like Windows Phone.
The live-updating home screen, the pulling of content from the background to the very front, the "put people first" marketing pitch.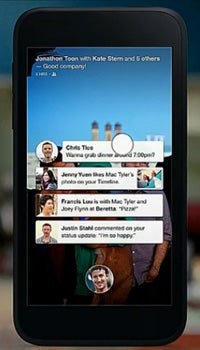 I tweeted about it, but only one follower responded in agreement. I realize Windows Phone is slipping into ne'er-do-well territory and doesn't get much attention. Still, I wondered why more people weren't mentioning the similarities between FB Home and Windows Phone.
On Friday, Microsoft itself acknowledged the striking resemblances. In a blog post about Facebook Home, Microsoft VP of Corporate Communications Frank X. Shaw capitalized on the moment to say "hey this looks familiar."
"I tuned into the coverage of the Facebook Home event yesterday and actually had to check my calendar a few times. Not to see if it was still April Fools Day, but to see if it was somehow still 2011. Because the content of the presentation was remarkably similar to the launch event we did for Windows Phone two years ago."
It's hard to argue. Facebook Home isn't the most unique concept. But Facebook made a smart choice to run it on the dominant Android OS. In contrast, Windows Phone's market share is limping along at 3.2 percent, according to online market tracker comScore.
In a story on CITEworld about Microsoft's fragile state these days, Matt Rosoff touches on the advantage Facebook Home has by running on Android and what that says about the hapless Windows Phone.
"The difference is that Facebook's product runs on Android, a platform that people are actually using. So far, consumers and businesses alike just haven't taken to Windows Phone, even if reviewers find a lot to like about it."
But let's call a spade a spade: Microsoft came up with the "Put People First" tagline and the user interface that brings the concept to life. And Facebook stole it.
But Facebook Home, despite early criticism as a privacy violator and productivity killer, has red-hot Android and HTC as mobile partners and over one billion people to put first. It's possible that general Facebook fatigue will derail the social network's mobile plans. But if not, Microsoft may end up watching its precious idea succeed in someone else's Home.