Paper receipts, sadly, are still a necessary evil for many of us. This unfortunate fact is particularly painful in the days leading up to the annual IRS tax deadline in the United States.
I've been looking for a better way to do my taxes, and I had moderately high hopes for OneReceipt, a free iOS app that connects to a free Web-based, receipt-scanning service. But based on my trial, the OneReceipt app isn't going to be much help. (OneReceipt is currently only available for iPhones.)
After you setup a OneReceipt account, you can use your iPhone camera to capture images of paper receipts. The app connects, transfers the receipts to OneReceipt servers and translates them into new entries. You're supposed be able to view and sort receipts in the app or using the OneReceipt website.
I took pictures of three different receipts, however, and the app (version 2.1.1) wasn't able to save any of them. I was simply told that the OneReceipt servers were still "processing," even hours after I snapped the picture. The receipts weren't unusual, either; one was a perfectly-legible department store receipt with just a few items, photographed in ideal lighting conditions.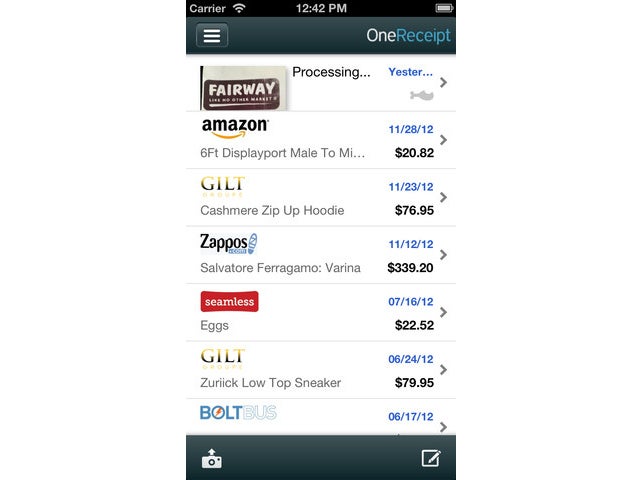 I had much more success with the OneReceipt Web-based service. The beauty is that you can use it to import email receipts from Gmail and Yahoo Mail accounts. OneReceipt breaks down each item on your receipt, and you can add tags. For example, if you receive a single iTunes receipt for music, apps and movies you purchased you can tag the songs as "Music," the apps as "Apps" and the movies as "Movies." The ability to separately tag items could be very valuable at tax time.
The OneReceipt developer says it doesn't share your email address, credit-card information is not stored, and a secure SSL connection is always used, so you don't need to be worried about privacy.
OneReceipt isn't your only option for digitizing receipts. The Neat Company focuses on receipt scanning, and it has scanners, desktop software, mobile apps and a cloud service all dedicated to organizing your receipts and business cards. If all that sounds like overkill, you might want to give OneReceipt a try. Just don't plan to count on the mobile app.