As part of my never-ending quest to find the best GPS navigation apps, I put CoPilot Live Premium USA to the test in my home city of San Francisco. Overall, I like the app a lot, but my hearty recommendation is tampered a bit by some incorrect mapping data.
I tested CoPilot Live Premium HD USA (currently $13) on my iPhone 5 and iPad mini. The app is also available for Android smartphones and tablets for $9, and it is coming to Windows Phone 8 smartphones soon.
The developers put a lot of thought into CoPilot Live. For starters, it's optimized for tablets and smartphones. My iPad mini (with 4G service) is an ideal GPS device so the two pair nicely.
The app is packed with useful features. You can get routes for cars, bicycles, and walking along with two options you don't usually see: RVs and motorcycles. After calculating a route, you can click the alternate button to see alternative routes, both of which include the distance and estimated time.
The split-screen navigation is particularly well suited to a tablet's larger display. On one screen, you see a map and upcoming turns. You can choose between seeing only 2D or 3D maps, with or without directions, or just the directions.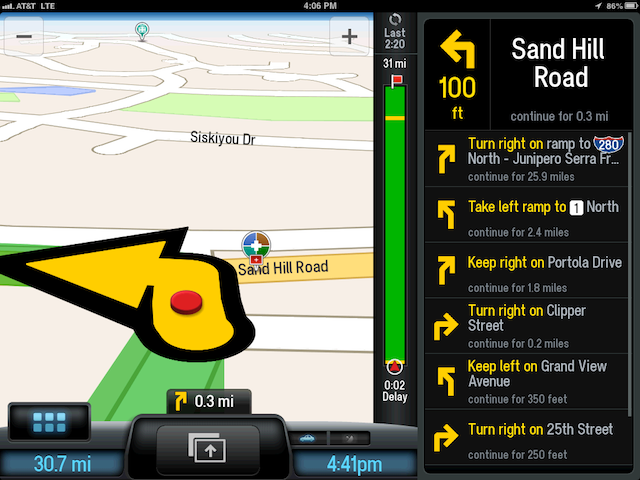 A "PhotoNav" navigation option lets you navigate to the GPS coordinates captured in a photo on your device. I don't know how often you'd use this feature, but it appears to work well.
To save space on your device, you can download regional maps, a map of the United States, or for an extra fee, maps of other continents. European maps, for instance, cost an additional $29.
Searching for destinations is easy, thanks to integrated Yelp and Google search. The app accesses your contacts, too, so you can easily navigate to friends' homes.
I could go on, listing even more useful or cool features, including free traffic updates for one year ($10 annually afterwards). When it comes to unique features, this is a terrific GPS navigation app.
Now, the caveat: In a couple of instances during several weeks of intermittent testing, the mapping data was outdated or just plain wrong. For example, on one occasion CoPilot Live told me to turn onto Army St. But the street's name was changed to Cesar Chavez St. 18 years ago.
CoPilot also instructed me to turn right onto 22nd Street when traveling north on Diamond Street. But 22nd Street turns into a steep staircase at this point before resuming after a block. If I'd turned right as CoPilot Live instructed, I'd have landed in a private driveway.
While these aren't catastrophic errors, they're enough to embed an element of doubt in my mind about CoPilot Live's directions. In all fairness, however, every GPS navigation app I've ever used—and I've tested more than half a dozen over time—has steered me wrong at one point or another. It's just a shame that CoPilot Live, which gets so many things right, doesn't always deliver in the mapping department.