The popular free content-aggregation app Flipboard is about to get even more popular. On Wednesday, Flipboard 2.0 was released for iPhones and iPads, and its coolest new feature is the ability to create and publish your own Flipboard "magazines." (The feature isn't available yet for Flipboard's Android app.)
As always, Flipboard pulls together the latest content from online publishers, including USA Today, The New York Times and The Huffington Post, along with information from your own social media streams. The content is presented in a magazine-like interface, with virtual pages you flip through. You can subscribe to specific topics, such as Travel and Sports, and Flipboard serves up the latest relevant articles for your perusal.
In the past Flipboard was a content-consumption app with social sharing features. Now, with version 2.0, you can become a publisher, too. As you flip through content in the app, click the "+" button to add an article to a new or existing magazine that you curate. Other Flipboard users can subscribe to your magazine, and it becomes part of their curated Flipboard content. You can also share your magazine to connected social networks.
Why would you want to become an active Flipboard content curator? One possible reason: Bloggers and writers can create a portfolio of their own content, as I did with some recent CIO.com blog posts, to share. (See below screen shot.)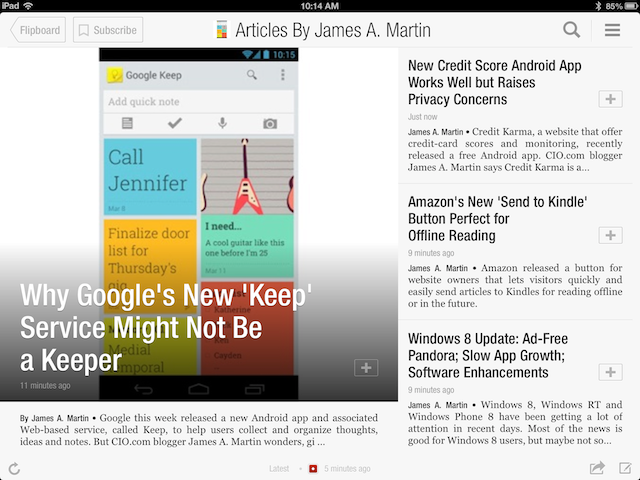 You could also create a magazine dedicated to articles you want to read later. (Flipboard's integration with Instapaper and other such apps lets you do that, too.)
Flipboard also released a new browser bookmarklet that lets you easily add website content you found outside of Flipboard to your magazines. The Flipboard blog lists several other enhancements in version 2.0 that are worth checking out.
I've always enjoyed Flipboard, though I only used it intermittently. The ability to become a magazine publisher could very well turn me into a Flipboard habitué.