Seven years ago today, Twitter founder Jack Dorsey posted the site's inaugural tweet: "just setting up my twttr."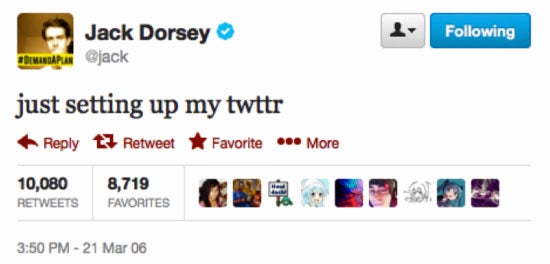 Today, the microblogging site has more than 200 million active users who post more than 400 million tweets each day.
"The steep trajectory of Twitter's momentum is something @jack, @ev and @biz only dreamed about back in 2006," writes Karen Wickre, editorial director, in a blog post.
Dorsey's first tweet was just 24 characters long. If you're curious about your first post, you can download your Twitter archive. Go to your account settings by clicking on the gear icon at the top right of the page and selecting Settings from the drop-down menu. Then, click "Request your archive." When your download is ready, Twitter will email you with a download link.
Another option: Visit MyFirstTweet.com. Type in your username and the website will uncover your first tweet, along with the date it was posted. This site does not appear to work for everyone, however.
You can also find out the date you joined Twitter. To see how long after the social network's inception you signed up, visit WhenDidYouJoinTwitter.com/.
To commemorate seven years of the twittersphere, the social network created a video highlighting some of its biggest moments: the first tweet from space, protests in Tahrir Square, the earthquake and tsunami in Japan, and the London Olympics, to name a few.