Blazing fast, super fast, faster than fast. Biggest network, best network. Every major wireless carrier is trying to convince you that it has the 4G LTE network of your dreams, with the fastest download speeds and the broadest coverage. But they all can't be the best, and sorting through those conflicting claims can be a daunting task.
Fortunately, a performance measuring company, Seattle-based RootMetrics, has done extensive testing of connection speeds delivered by the four major carriers: AT&T, Verizon, Spring and T-Mobile. RootMetrics looked at both 4G speeds, and the slower 3G connections that kicked in when 4G wasn't available. The LTE speed champ? AT&T. At 18.6 Mbps, AT&T easily offered the fastest pure LTE download speed of any carrier, outpacing Verizon's mark of 14.3. Coming in third was Sprint at 10.3 Mbps, while T-Mobile does not yet offer LTE.
AT&T
OK. Let stop right here. These speeds are very, very fast. But there's no assurance that the speed you'll get on your smartphone will even come close. RootMetrics is presenting average speeds across 77 major markets, and as you learned in junior high, averages can be a bit deceptive. Real speeds vary a good deal from market to market and neighborhood to neighborhood within those markets. Here in San Francisco, for example, I'll often get speeds of just 3 Mpbs near my home on AT&T's network, but twice that fast a few miles away.
Still, the amount of data RootMetrics presented in its report is impressive. The company collected over 725,000 samples using off-the-shelf smartphones. In addition to measuring speeds, the company collected data on how often its testers could actually make an LTE connection. Within AT&T's LTE-enabled markets, it connected to LTE 81.7 percent of the time, while Verizon's network did even better, connecting 93.2 percent of the time and Sprint trailed at 50.2 percent. (RootMetrics notes that Sprint's rollout is still fairly new and it's performance may well improve over the course of the year.)
VERIZON SPRINT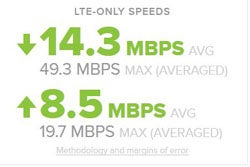 Once a user has connected to an LTE network, what's the likelihood that he or she will get what RootMetrics calls a "lightning fast" connection, defined as 10 Mpbs? That's an important benchmark, because it's what you need to enjoy streaming HD video without rebuffering or dropped frames. AT&T and Verizon tied, with each delivering top-tier speed 56 percent of the time, while Spring again lagged at 23 percent.
Finally, there's the question of what sort of speed you'll get when you can't make an LTE connection and drop back to a flavor of 3G. Here the download results are surprising. Verizon came in dead last at a very pokey 0.9 Mpbs, while T-Mobile came in first at 7.3 Mpbs. AT&T was in second place at 4.3 Mpbs with Sprint registering 1.6 Mpbs.
The five markets with the highest overall speed measured in Mbps and averaged across all four carriers are: Jacksonville, Florida (13.6); Nashville, Tennessee (12.6); Baltimore (12.5); Tampa-St. Petersburg, Florida (12.3); and Austin, Texas (12.3). The slowest: Toldedo, Ohio (4.7); Springfield, Massachusetts (4.7); McAllen, Texas (5.0); Honolulu((5.5); and Philadelphia (5.7).
If you're interested in one of these services, it's a good idea to find a friend who already subscribes and have him or her come to wherever you'll use your phone the most, and see how well it actually works.