Next Issue, a free app that's been dubbed the "Netflix of magazines," was released this week for Windows 8 and Windows RT devices. It looks great on my Microsoft Surface RT tablet. But it's missing some features that would make it a must-have magazine app.
I first reviewed Next Issue in April 2012. Initially, Next Issue was available only for Android tablets (a rarity then and now). An iPad edition was released a few months later.
For a monthly fee, the app delivers full digital editions of 82 magazines to your tablet, including many popular titles such as Wired, Men's Journal, Time, Fast Company, Entertainment Weekly and Vogue. You get two subscription options: a $10 monthly limited plan that includes the majority of titles, and a $15 plan that adds premium magazines such as Sports Illustrated and The New Yorker. A monthly subscription delivers all the magazines you can read. You can try either plan for 30 days, free.
As I mentioned, Next Issue magazines look terrific on a Surface RT, in landscape and portrait modes. The topline navigation lets you touch to go directly to an article. Or you can swipe to flip through and then touch to select a specific page. Swiping down on a magazine cover lets you pin it to your tablet's Start screen. Next Issue says live tiles with rotating covers of your magazines' latest issues are coming soon.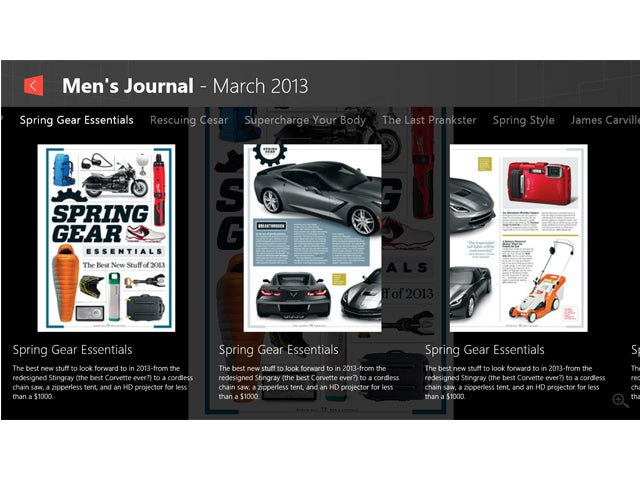 But Next Issue on Windows tablets lacks some features of its iOS and Android counterparts. For example, the iPad app includes a handy slider bar for quickly flipping through an entire issue and a button that, when touched, takes you to the magazine's website.
Next Issue, on any platform, doesn't let you save and print a magazine page, though you can get around that by doing a screen shot. Social sharing hooks would also be cool, so you could share a page on Facebook or Twitter.
Still, if you're a Windows 8 or RT tablet owner/magazine junkie, give Next Issue a try. If nothing else, it's a cool way to sample magazines you might not otherwise buy.
UPDATE: This blog post was revised slightly to clarify differences between the Windows and iPad editions.