Ringya, a clever and useful contact-management app for iPhones, is now available for Android devices. It's free. It does something very cool. And you're going to want to try it.
iOS and Android have no shortage of apps that manage contacts, allow group texting, and/or provide contextual caller ID. Ringya does all of these. But here's what impresses me: Ringya can take a photo of a printed contact list and import the names and numbers into a new "Ring" (or group) within the app.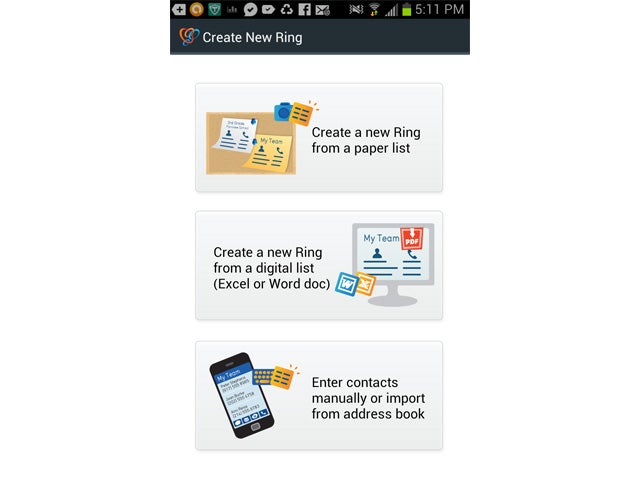 You just take a picture, wait a few minutes for Ringya servers to process the image and convert it into contact entries, and it appears within the app. The first time I tried it on my Samsung Galaxy Note, the conversion failed. But I tried again on that phone as well as on my iPhone 5 and it worked beautifully on both.
The printed list of contacts I threw at Ringya wasn't perfect, either. The font size was small, and the piece of paper had been folded in several places. A spot check of the contacts the app captured showed complete accuracy.
In reality, you probably won't have that many printed phone lists to import. Ringya also imports contacts from your phone's address book or a Word or Excel document. You can enter contacts manually, too.
The service isn't designed for importing business cards, however. Another downside: You can't choose to import your Ringya contacts into your phone's address book. As the app's help section confusingly states: "Ringya places your contact lists in Rings within the application and keeps some contact information in your address book, not as normal contacts; that is, you will most likely not see them at all although they are there." Come again?
Once you've set up a Ring, you can send group texts or emails or call individuals within a group. When someone from one of your Rings calls you, you see some information on them, such as the Ring you've added them to. If you share that Ring with the others in it and they later change their contact information Ringya updates their information on your device accordingly. In fact, Ringya will update that contact info for everyone within the Ring, as long as they use the Ringya app.
Ringya has some room for improvement. But if the developers stick with it and add a little more functionality, it could be a killer contact-management app.