UPDATE: A Google Maps update released March 5th integrates the user's Google contacts into the app. As long as you sync your Google contacts with your iOS device, your contacts will show up in search results within Google Maps.
As you may recall, there was outrage when Apple booted Google Maps from iOS 6 in September 2012 and replaced it with its own GPS-guided mapping app for iOS. Many reviewers and users weren't pleased with its lack of transit directions and convoluted or just-plain-wrong driving directions. Apple's iOS Maps even endangered some Australians last fall. And Apple's CEO Tim Cook famously apologized for Apple Maps (pictured below) a week after its release.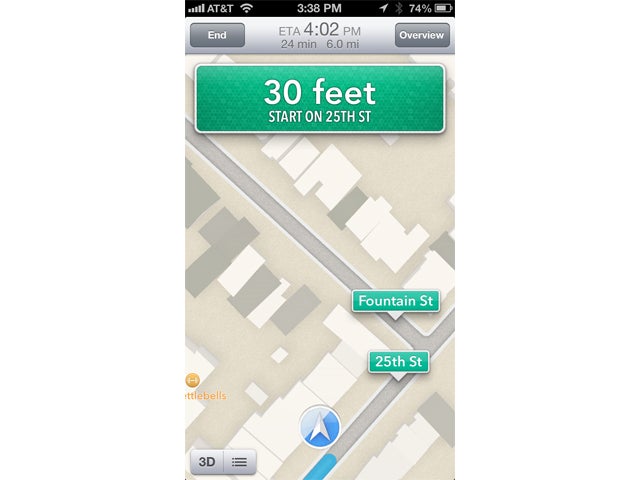 Like many, I experimented initially with Apple Maps and have used it now and then. Mostly, though, I switched to Google Maps once it became available again on my iPhone, this time as a stand-alone iOS app.
On a trip last week to Charlotte and Greensboro, North Carolina, I found myself driving a lot, sometimes on unfamiliar roads. It was a good opportunity to give Apple Maps another chance. Mostly, the app did a good job of getting me to my destinations when I was in the city or in populace areas. Also, I liked using it on my iPad mini. The app is optimized for iPad screens, and using my mini as a GPS device left my iPhone free for calls or playing music through my rental car's audio system.
However, on a few rural roads, Apple Maps failed to tell me when to turn. Had I not been familiar with the area, I'd have sailed right past those turns and likely ended up in a cow pasture.
Google Maps didn't drop the ball outside cities. But it had me going the long way on some routes. (I've also heard stories of Google Maps telling users to get off a freeway, only to get back on it a mile or so later.) The interface could use some streamlining. And its lack of integration with my iPhone's contacts made it cumbersome to navigate to the homes of friends and relatives. (Apple Maps integrates with your iOS device's contacts, enabling you to navigate to addresses by typing in contacts' names.)
On this trip, as well as in California, where I live, I've had better luck with Magellan RoadMate USA. Generally speaking, the directions it gives me are accurate. It's easy to look up people in my contacts and search for places using Google or Yelp.
But the Magellan app costs $50. It's not optimized for iPhone 5 or iPads. And as of this writing, Magellan RoadMate USA hasn't been updated since October 2012.
So my search for the ideal smartphone navigation app continues. If you've found one I should know about, please tell me in the comments.