If you're a college student, you're probably familiar with this kind of math question:
If a 16GB Wifi-only iPad costs $500, and a student spends $1,000 per year on printed textbooks while recouping 16 percent on the sellback, and an e-textbook costs 60 percent less than a printed textbook but lacks sellback, and only 32 percent of a college's textbooks are e-textbooks, how long before the iPad pays for itself?
Answer: It'll take you around three-and-a-half years to recoup the cost of the iPad solely from e-textbook savings.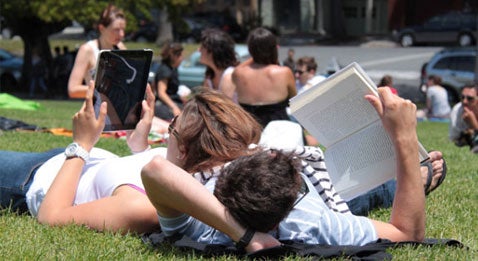 Hopefully, time to return on investment will shorten as more universities and educational publishers get on board with e-textbooks. One of the universities leading the charge is the University of Indiana, which just announced that nearly 10,000 students are using e-textbooks this spring semester.
"IU has long saved students money by negotiating favorable pricing for software, and it is natural to negotiate favorable pricing for digital textbooks to reduce the costs of attendance," said University of Indiana's CIO and Vice President for IT Brad Wheeler.
The University of Indiana began piloting e-textbooks four years ago. The spring semester now has 250 course sections using e-textbooks, which the university claims results in $200,000 in collective savings. Best of all, University of Indiana students won't have to stuff a backpack with a bunch of heavy books and lug them around campus.
Story: Apple's iPad Aims to Revolutionize Education
It's important to remember that the iPad offers a lot more benefits to the college-bound student than just e-book savings. After all, every college kid needs a computer. It wasn't that long ago when students at University of California, Berkeley, abandoned MacBooks for cheap netbooks, and now the iPad is replacing netbooks.
Not only is the iPad easier to carry around campus, critical productivity apps such as GoodReader and Apple iWork cost only a few bucks. Students can surf the Web for research, manage assignments and class schedules, email homework, take notes and record lectures, and take advantage of a host of learning app tools for reading, writing, math, science, history, art, among other subjects.
To be fair, e-textbooks have been slow to arrive at colleges for a host of reasons, some of which are political. However, it is happening thanks to efforts by universities such as the University of Indiana.