Two prominent brands were victims of Twitter hackings this week. On Monday, Burger King's hackers announced on the fast food chain's Twitter page that it was sold to rival McDonald's, changed its Twitter picture to a McDonald's logo and sent out a flurry of tweets containing racial slurs, obscenities and references to drugs.
Then on Tuesday, Jeep's Twitter account suffered a similar fate: Hackers posted that Jeep had been sold to Cadillac and pointed to an image of an imaginary Jeep "CEO" appearing to smoke drugs out of a lightbulb.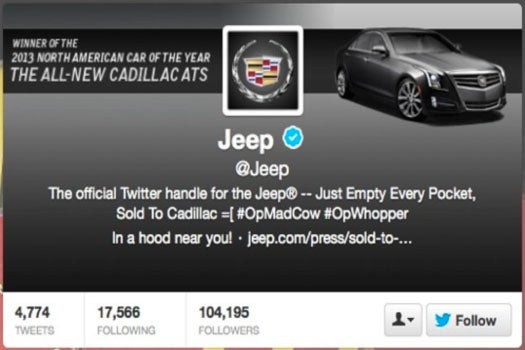 Both the Burger King and Jeep hacks included the hashtag #OpMadCow, though it's still unclear who was responsible.
Yesterday, Twitter took the opportunity to address account security in a blog post, offering users a refresher in password security.
Among Twitter's tips:
Use a strong password. Twitter recommends a password with at least 10 characters that include upper and lower case characters, numbers and symbols. Using a unique password for all sites you visit is important, it says; if one account is compromised, the rest are safe.
Be cautious when clicking on links, especially in Direct Messages. When you're prompted to enter your Twitter password, take a second glance at the URL and make sure you're actually on Twitter.com, it says. Phishing websites can look like Twitter's login page, but they'll be destinations other than Twitter.
Don't reveal your username or password to unknown third parties. Be wary of applications that promise to make you money or get you followers. If it sounds too good to be true, it probably is, Twitter says.
Keep your operating system up to date. Make sure you've downloaded your most recent patches, upgrades and antivirus software, and keep your browser updated with the most current version, since these tend to address security threats.