This morning I checked out the Windows Store "new releases" on my Microsoft Surface RT tablet, as I do every so often. And I was struck by the number of sexually-suggestive apps on display. Such as: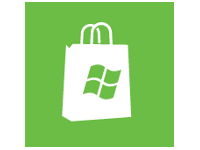 * 1000 Sexy Girls HD ($2), from a publisher called Bottomless, Inc. The title tells it all. If you need more detail, here's the description: "More than 1000 gorgeous women! Imagine if a year had more than 1000 days instead of only 365: you would have a bigger sexy calendar to browse!"
* Sexy Babes ($2), also from Bottomless, Inc. This appears to be another photo collection of attractive young women in skimpy attire. The description (grammatical errors and all): "Discover the glamour and attraction of the woman body in this succession of mouth-watering pictures."
* GloryGay w/Ads (free), from a publisher named 18, looks to be a hook-up app for gay men. The description: "Start conversations and do whatever you like!"
* Adult Friend Locator ($1.49), also from 18, is apparently the same as above but a hetero version. The description: "Meet adults who wants (sic) to express themselves in DIFFERENT and EXCITING ways."
You get the picture. The "new releases" section of the Windows Store, at least as viewed on my Microsoft Surface tablet, is suddenly looking rather adult. Of course, Apple's iOS App Store and Google's Play Store both have their share of apps aimed at adults, too. But I don't recall seeing them showcased in Apple or Google's "new apps" sections.
I didn't download any of the above apps, so I can't comment on their quality. This much I can say: These apps give you the feeling that some questionable characters just moved into Microsoft's shiny new neighborhood.