Facebook says I joined the social network on August 23, 2004: That's more than eight years' worth of posts from friends, status updates, photos and links that could be discoverable, thanks to both Timeline and Facebook's new search capability, Graph Search.
When Timeline launched in December 2011, I took the tedious, painstaking measures to ensure old posts from college were hidden and that my profile was more professional. Timeline makes it easy to browse posts from years ago, something that before could take hours of scrolling.
But if you're one of the many who hasn't perused your old posts one by one and taken the time to hide potentially embarrassing or unprofessional activity, there's a new Facebook app that makes doing so a whole lot easier: Facewash.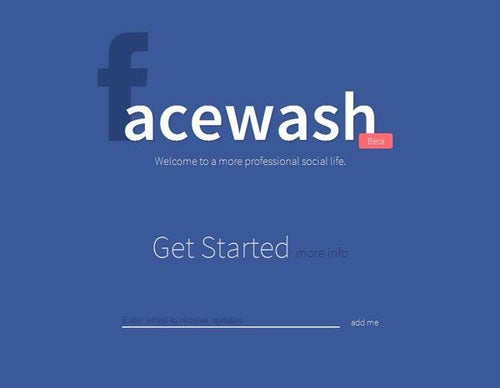 Facewash, developed by Kent State University undergrads Camden Fullmer, Daniel Gur and David Steinberg, combs your Facebook profile for instances of both preselected "dirty" keywords, which, it says, includes "a precompiled list of words that may be considered offensive or alarming to those viewing your social history," or keywords you input yourself.
The app then scans your profile and returns results of the keywords found in comments posted to your wall, comments on photos you're tagged in, photos you've posted, links you've liked, photos you've liked, status updates you've posted and pages you're a fan of. Clicking the link brings you to that post on Facebook where you can change the privacy setting or remove the post entirely.
[4 Facebook Privacy Settings for the New Year]
Co-creater Fullmer says the app was developed as part of a hackathon held at the University of Pennsylvania.
"Most people need to manually clean their online presence as they present themselves publicly and professionally to future employers," he says. "We wanted to make this easier for people, so we helped automate the process of finding content you may want to clean up."
And while the app was developed with college students in mind, it's usefulness extends to professionals.
"Given the current economic conditions, many experienced professionals have found themselves without a job, and they are having to interview again after years of being in what they thought was a secure position," Fullmer says. "For these people, Facewash helps give them security in an area they may not have previously worried about."