Microsoft announced yesterday that the 10.6-inch Microsoft Surface Windows 8 Pro (with a Stylus Pen included) will be available starting on Feb. 9 in the U.S. and Canada at Microsoft Stores, at microsoftstore.com, and at Staples and Best Buy.
A couple news stories I read misreported that the 64GB and 128GB models ($899 and $999 respectively) would include a Type Cover for those price points. Additionally, the Microsoft press release announcing the Surface Pro never directly says that the keyboard/covers cost extra. It does mention that three new Touch Covers in red, magenta and cyan will be sold for $130 each, but at the same time, the release showcases a large image of the Surface Pro with a black Type Cover attached and calls the Type Cover "optional."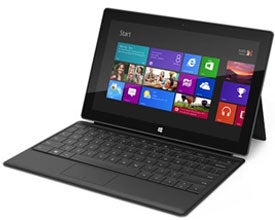 Anyway, I experienced a moment of relief that Microsoft had stopped squeezing us with $120 keyboard covers that cost about $15 to make.
But alas, I was wrong. The status quo remains. The Touch Cover will cost an extra $120 and the more real-keyboard-feeling Type Cover will cost $130.
I've come around to the idea that the specs of the Surface Pro merit the $899 and $999 prices. Despite being called a tablet, the damn thing is a laptop … with laptop power: x-86 processor, 4GB of RAM, 64GB and 128GB storage etc. Given that the hardware is also comprised of black metal, you realize that Surfaces are not cheap to make.
According to iSuppli, the BOM (bill of materials) and manufacturing of a Surface RT tablet costs $284. Let's assume the Surface Pro is at least $100 more to build given the more expensive chip, more RAM and more storage.
So those manufacturing costs and heavy specs of the Surface Pro justify the high price (although we'll see how the market reacts after the Feb. 9 release). But it would still be nice to have that keyboard cover thrown in for free or a steep discount, say $40. After all, every Surface billboard ad and TV commercial shows the Touch or Type Cover connected as if it's a package deal. It feels like a bait and switch when the thing costs $130 extra.
Including the Touch or Type Cover would be an incentive for people, or more likely businesses, to buy a Surface Pro. So far, Surface RT sales have been pretty dismal and the Surface brand is struggling to connect with consumers. The time is ripe for Microsoft to shake, and not bite, the hand that feeds it.
Apple — or should I say Steve Jobs – took a risk on the integrated hardware/software model and has earned, through years of success, the right to price its products at a premium level. Microsoft is a pioneer of the partner model but a rookie at making its own Windows hardware and competing in the tablet market.
It hasn't earned the right yet to nickel-and-dime us with accessories.
What do you think? Does it annoy you that Microsoft is charging extra for Touch and Type Covers?