My first 2013 prediction is that "izik" will never become a verb akin to "Google;" as in "Hold on, let me izik that restaurant we were talking about." As pleasing as it is to use, izik, a new mobile-search app for iPad and Android tablets, isn't going to supplant Google anytime soon.
Izik comes from Blekko, a company that developed a "spam-free search engine" alternative in 2010. Blekko's search engine uses algorithmic search a la Google but doesn't attempt to index all the world's information as Google does. Instead, Blekko also relies on "human beings and their judgment" to surface the most relevant, high-quality content.
Though Google still has about 65 percent of the search engine market, Blekko's sliver of the pie has been growing. Late last week, Blekko released izik. The free app is Flipboard-like in the elegance with which it presents search-engine results. Unlike the text (and ad) laden results you see in Google, both in the mobile browser and in the Google Search app, izik organizes the results in highly-visual horizontal bands that you swipe to explore. Izik also has tabs at the bottom of its screen that correspond with each band of information, so you can easily jump to, say, "Images" or "News." Izik doesn't subject you to ads, either. (Not yet, at least.)
The bands and tabs differ depending on your search topics. For example, if you search for "President Obama," you see a "Quick Answer" first—a sentence or two explaining who the subject is, along with a photo. The feature is similar to the "knowledge graph" Google recently started displaying to the right of search results for some topics. In this example, though, Google gives you lots more basic info on Obama than izik's "Quick Answer."
With a search for Obama on izik, you also see "Top Results," "Images," "Latest" (news stories),"Politics" and "News." What's the difference between "Latest" and "News?" Frankly, the app doesn't do a great job of differentiating the two. And when I searched for Obama on January 7, 2013, using izik, the top news story was about his support for same-sex marriage—a story that broke in May 2012. So izik is not apparently the go-to search engine for finding the absolute latest news.
In its favor, izik does make exploring search results easier and more interesting. Even though its search results emphasize images, izik also provides more information on a single tablet screen than Google. You can see a comparison below, of a search using the phrase "Android apps."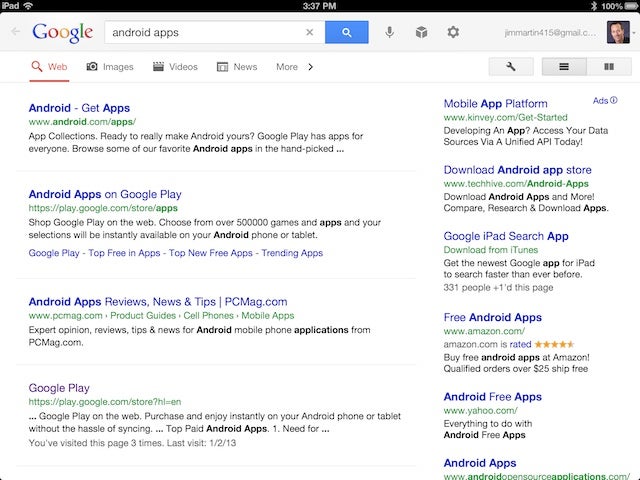 In my tests, izik did a good job of serving up information I wanted quickly. For instance, a search on "Life of Pi" delivered a capsule summary of the film; its rating (PG); release date; runtime; showtimes at nearby theaters; and so on. But Google listed more local movie theaters, and it told me how far each was from my current destination.
I like izik a lot and hope it succeeds. Even so, I'll probably only use it occasionally, and I definitely won't be giving up Google for it.