The Logitech UE 900 is a premium set of in-ear earphones with exceptional sound quality. Four independent drivers work together to deliver precise sound to each ear–two for low-end sound, one for mid-range audio and one for high frequencies.
The UE 900 comes with two pairs of detachable braided cables that are less prone to tangling than normal cables. One cable has no attachments, while the other sports an integrated microphone and on-cord audio controls for Apple iDevices. The feature-less cord works with all standard headphone jacks, and the cord with controls lets you answer calls, change tracks and adjust the volume on iDevices.
The UE 900 delivers impressive sound, and the quad-armature drivers provide excellent separation of musical instruments. It particularly excels in the midrange though. Bass is spot-on and is not overpowering, as is the case with some earphones and headphones I've used.
The clear separation of instrument sound and precise bass makes the UE 900 very pleasant to use for extended periods of time. And the audio fidelity and portability make it well suited for people who prefer to travel light.
The headphones come with a compact hard case for maximum protection and a soft drawstring pouch. The UE 900 comes with a standard quarter-inch adapter and an airline attenuator. Five pairs of silicon ear cushions of varying sizes and three pairs of ear foams are also included.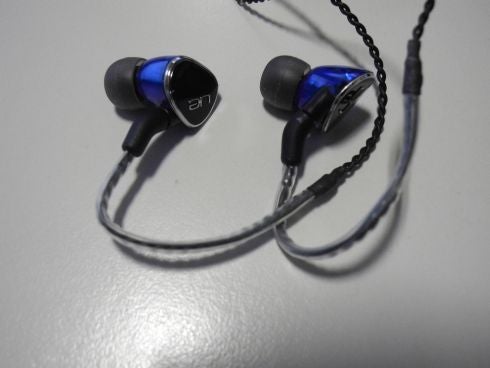 A close-up of the Logitech UE 900 earphones
The cable can be detached from the UE 900 earphones
Logitech UE 900 Conclusion
Unfortunately, the UE 900's $400 price tag puts it out of reach of most casual consumers. Audiophiles and stage musicians who might be willing to pay such a high price could also skip these headphones and go with higher-end options that have custom-molded ear buds and other features for the same or similar price. That said, the UE 900 is an excellent pair of consumer earphones that deliver exceptional sound quality.