I've been on vacation for the past two weeks, and while I was gone, a whole bunch of things happened in the World o' BlackBerry. The purported official names of RIM's first two BlackBerry 10 handsets hit the Web: The "Z10" all-touch device; and the "X10" full QWERTY BlackBerry. New images of the BlackBerry X10 handset leaked. And some FCC documents were discovered that suggest a new BlackBerry device will be coming to AT&T with LTE support. (In November, RIM CEO Thorsten Heins said more than 50 wireless carriers were testing BlackBerry 10.)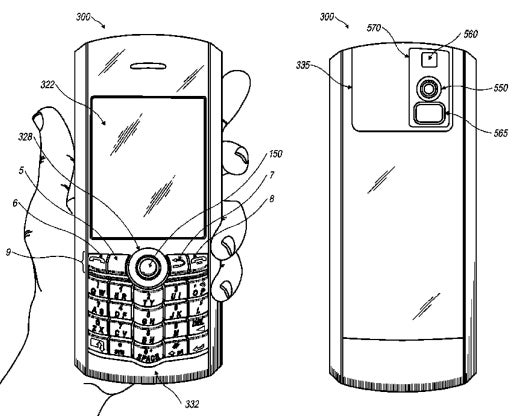 But one of the most interesting bits of new, BlackBerry-related information, at least from an IT perspective, relates to a patent that was granted to RIM by the United States Patent and Trademark Office (USPTO) on January 1, 2013. The patent, entitled, "Camera-steady focus requirements for preventing inconspicuous use of cameras on handheld mobile communication devices," is for a new technology that requires users to hold their BlackBerrys steady for a predefined period of time before taking pictures. The idea is that corporate data thieves, stalkers, paparazzi and other Bad Guys won't be able to take quick, sneaky images of their subjects without consent if they have to hold their cameras up for 10 seconds or more before snapping pics. (Note: The patent is just that, a patent. So this technology may never make it into an actual BlackBerry handheld. But it's an interesting idea that RIM thought was valid enough to patent.)
From the RIM patent:
"As more handheld devices incorporate camera functionalities, organizations and individuals with privacy concerns are more vulnerable to unauthorized disclosure. The camera restriction prevents a user from taking a picture of a subject if the device has not been steadily focused on the subject in question for a predetermined period of time. In short, this process extends the normal camera-taking procedure and thus requires the camera user to take pictures in a conspicuous manner–the rationale being that a camera user would be less likely to take unauthorized pictures if such actions could be easily recognized. The camera restriction can be communicated to the device via a wireless communication network. Additionally, the restrictions and boundaries can be communicated to the device as part of an IT security policy.

"In one embodiment in which the handheld electronic device is linked into an IT network, the network administrator can adjust the device's timer to measure below or above the predetermined time limit–the rationale being that a network administrator should be able to assess the degree of vulnerability affecting his or her organization and establish steady-focus metrics according to the organization's security needs. In another embodiment in which the handheld electronic device is not used within the confines of an IT network, such as by an individual on a public road, the individual would be able to adjust the device's timer to measure above the predetermined time limit. However, the individual would only be able to reduce the time limit to an established lower threshold of approximately five seconds–the rationale being that an individual, such as a stalker or paparazzi, should not be able to lower the time limit for steady focus to a level that encourages inconspicuous photography."
So IT will be able to adjust the image-stabilization security timer to increase the amount of time corporate users need to stay still before capturing images. But the patent makes it sound like non-enterprise users won't be able to decrease the timer to less than five seconds. That's great for corporations, celebrities and people being stalked, but sometimes normal, non-threatening people want to take quick action shots, and this could potentially be a turnoff for people who don't want or who don't require this kind of smartphone-camera security feature. Also, paparazzi and stalkers who learn about the new camera feature could just, you know, buy an iPhone or an Android and snap away without delay, which would only force more potential BlackBerry users away from RIM—even if they're sketch balls.
For years, RIM has released camera-less versions of its most popular devices for use in secure enterprise environments. And recent versions of its BlackBerry Enterprise Server also support IT policies that let administrators disable camera functionality on BlackBerrys with digital shooters. This new patent could take RIM's camera-security efforts one step further. I'm just not sure it's a step in the right direction, at least for non-corporate BlackBerry users.
AS