As 2012 moves from the windshield to the rear-view mirror, it's time for an App Recap. In this post and upcoming posts, I'll give a shout-out to the 20 Android, iOS (and one Windows 8) apps I reviewed in 2012 that I enjoyed the most or found most useful. It's all highly subjective, of course.
I haven't ranked these apps in order, because mostly they serve different purposes and it seems silly to me to declare Pandora, for music listening, a better app than AirDroid, for managing your Android device on a computer. So instead, I've listed the apps in alphabetical order.
And here we go: the first five of my top 15 list of best 2012 apps.
AirDroid (Android Device Management)
Android
Sand Studio's free Android app gets kudos for making it super easy to manage your Android smartphone using a Windows, Mac, or Linux Web browser. You can manage practically anything, including text messages, apps, photos, contacts, and ringtones. It's not the only app to do this, but AirDroid puts together a lot of device control in a clean, intuitive interface.
Any.DO (To-Do List Management)
Android, iOS
First released on Android, Any.DO, an attractive to-do list management app, made its iOS debut this summer. Unlike many other to-do list apps, Any.DO is free, enables you to sync reminders across Android and iOS devices, features a slick interface, and keeps getting better. For example, the most recent version for iOS adds location-based reminders, daily sorting, and the capability to email your to-do items.
Circa News (News Aggregrator)
iOS
Circa News has an editorial team behind it that curates the latest news for you and presents it in an easily scrollable, digestible form. It's an elegantly designed app that makes it easy to catch up on world events in a checkout line. And it's free.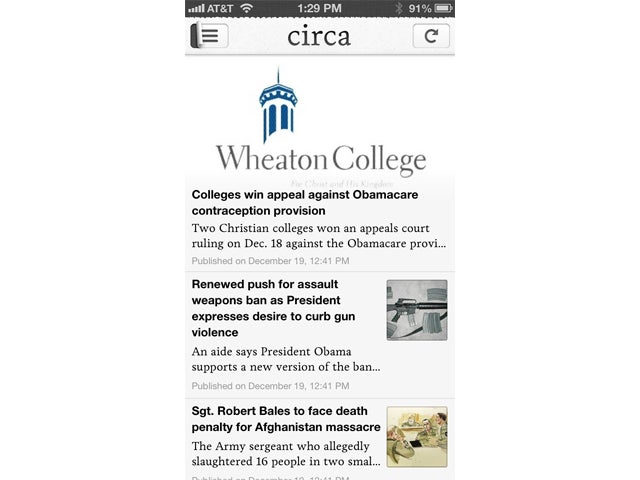 CloudOn (Virtual Windows)
Android, iOS
Of the various apps that let you run virtual Windows on Android and iOS devices, CloudOn is my favorite. Unlike some other apps, CloudOn integrates nicely with Dropbox and Box accounts, adds useful keys to your device's virtual keyboard and more. Version 3.0, announced Dec. 19, adds important new features such as support for the iPhone and Jelly Bean (Android 4.1 or higher), optimization for the iPad mini and Nexus 7 tablets, and integration with Microsoft SkyDrive.
Current Caller ID (Incoming Call Manager)
Android
A free Android-only app from WhitePages, Current Caller ID takes caller ID into the 21st century. When someone calls, it displays that person's latest Facebook, Twitter, and LinkedIn updates. You also get a quick glimpse of the caller's local weather and news headlines, just in case you run out of conversation topics.