Before I get into a review of the new Google Maps iOS app, I have some emotional healing to do. During this past fall's maps imbroglio, Google and Apple clearly looked out for their own interests at the expense of us, their customers. Google started that particular ball rolling years ago when it withheld a key feature of its Google Maps for Android program, spoken turn-by-turn directions, from the iPhone version. Google gave iPhone users a powerful, useful and fun-to-use app—with that significant limitation.
Apple knew its customers wanted—and deserved—more. So with iOS 6, Apple booted Google Maps off the iPhone in favor of its own Maps app. Unfortunately, Apple's Maps app was (and is) woefully undeveloped, and it sent unsuspecting Australians into remote corners of the Outback by mistake, among other embarrassments. Removing Google Maps for iOS was like taking away the keys to a nice car and handing iPhone users a set of roller skates instead.
In other words, Google has tugged iOS users one way and Apple another. The good news is that the Google/Apple hissy fit resulted in a new and improved Google Maps app for iOS—one with spoken turn-by-turn directions.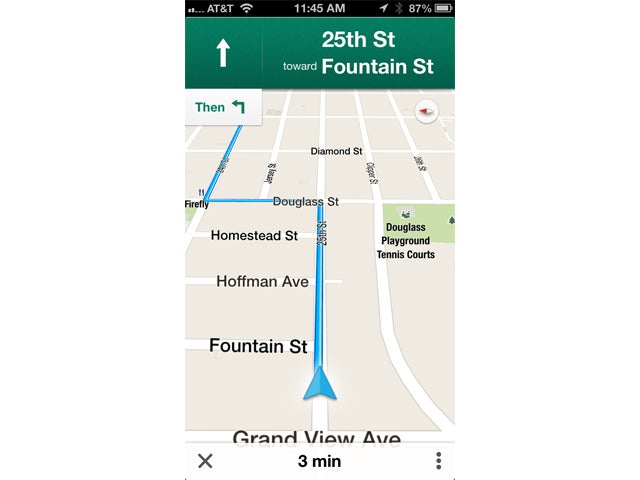 I tested Google Maps on my iPhone 5 last weekend, and I must say, I'm happy to have it back. Google Maps offers a wealth of useful information, including detailed directions via public transit, color-coded in real-time, and vector-based maps for smooth zooming. When you search on a business, you can see its hours of operations. A call button makes it simple to place quick phone calls from within Google Maps. And the app lets you save destinations to your lists of places for easy access in the future; read reviews of businesses; and check out related websites so you can decide if you want directions.
Once you're ready to roll, Google Maps serves up multiple routing options along with a summary for each that shows the expected drive time, overall route and total distance. You have two routing options: avoid highways and avoid toll roads.
As for spoken turn-by-turn directions, Google Maps usually works well—but not always. On one occasion, it tried to direct me to a congested street during peak traffic time as I drove along a parallel street with little traffic. Also, on a few occastions, Google Maps suddenly changed its mind and told me to take a left, when it had been telling me to turn right. As I came right up to the intersection, Google Maps suddenly reverted to its first instruction. I've experienced this last-minute change of directions in some other GPS apps, so I know it's best to stick with the original instructions. But still, such a quick change in directions is bound to throw many motorists off course.
Some more nits to pick: Neither Google Maps for iOS or the Android Maps offers address book lookup. Given that I keep my addresses in Gmail, this seems like an odd oversight. Google Maps for Android has Wikipedia integration that the iOS version lacks, if you care about that. On an iPhone, Apple's Maps is the default choice, meaning if you start a search using Siri, you'll get routed to Apple Maps, not Google's. And the Google Maps app isn't optimized for iPads, which is a shame because the iPad mini with 4G LTE service is a sweet GPS navigator. (Google said iPad optimization is in the works, however.)
Regardless, I'm really happy the Google vs. Apple Maps war is over—for now.