Microsoft's Surface RT tablet is being freed from the Microsoft Store-only box and will be available at other retail outlets starting today, most notably Best Buy.
Best Buy's website will start offering Surface RT tablets today at 5 pm EST. Brick and mortar Best Buy stores will start hawking Surface RT this coming Sunday, Dec. 16. Office supply king Staples — which has been beefing up its consumer gadgets presence – announced it will carry Surface RT tablets at all Staples locations and on its website starting today Dec. 12.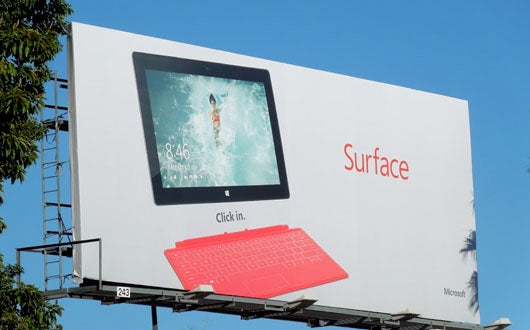 Surface will continue to be available for purchase at all Microsoft retail stores in the United States and Canada and online in the U.S., Australia, Canada, China, France, Germany, and the UK. The Microsoft holiday pop-up stores will also stick around and transition into either permanent brick-and-mortar retail outlets or specialty stores.
Microsoft announced the Surface RT retail expansion yesterday, although it did not mention Best Buy or Staples by name.
"Our plan has been to expand the retail presence for Surface after the first of the year. Based on interest from retailers, we are giving them the option to carry Surface with Windows RT even earlier," said Steve Schueler, corporate vice president, Microsoft Retail Sales and Marketing.
This sounds good in a press release, but I'm dubious about the so-called demand. Reviews of the Surface RT have been decidedly mixed and distribution has fallen short, yet Microsoft acts as if it is doing retailers a favor. At the same time, the company will not disclose any hard Surface RT sales numbers as analysts call for lukewarm Surface RT sales for the quarter.
Making the product only available in Microsoft Stores (currently there are 31 full stores and 34 temporary pop-up stores in the U.S.) and on the Microsoft.com site did not give enough people a chance to buy the device or else Microsoft would have stuck with its original in-house plan for more than just a month and a half.
So it was a necessary measure to expanded availability of the Surface RT. Microsoft is catching on that Windows 8 and Windows RT devices are not going to sell themselves. Increased retail presence and aggressive advertising (there's no shortage of advertising!) should put the Surface RT in a better position to compete as we enter the final stretch to Christmas.