UPDATE: It looks like RIM's NYT push isn't just in print. The NYT home page now has an interactive BlackBerry Hub feature that's accessible via a huge banner ad.
If RIM is going to pull itself out of the gutter and get back into the mobile game, it's going to need some serious marketing efforts. (It's also going to take a lot of developer, carrier and partner support, and even more good ol' fashioned luck, but that's another story altogether.) Just think about how many iPad and iPhone ads you've seen in recent days. Or all the Samsung Galaxy SIII and Note II billboards. That's what RIM will have to compete with, from a marketing standpoint.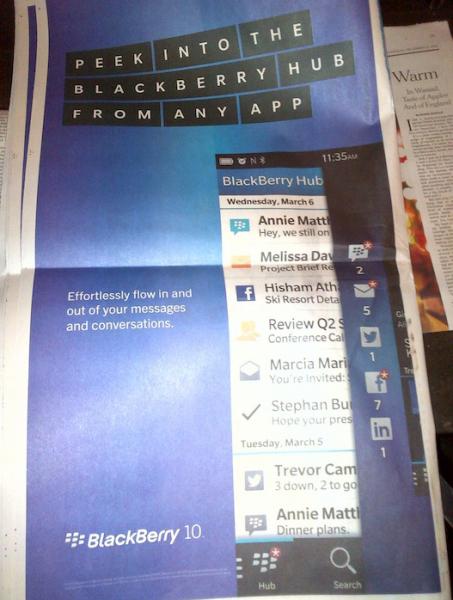 RIM isn't set to launch BlackBerry 10 until January 30, and even then, the first devices probably won't be available for a couple of weeks after that. But the BlackBerry maker isn't wasting any time, and it is already trying to raise BlackBerry 10 awareness among affluent, educated consumers, i.e., readers of the New York Times print edition.
The DealBook section of today's Times reportedly features multiple large BlackBerry 10 ads. RIM has to know what is at stake with BlackBerry 10, so it's nice to see the company come out with its marketing guns blazing, more than a month before the BlackBerry 10 launch.
Pop on over to CrackBerry.com for a look at the additional BlackBerry 10 ads in today's Times.
AS