The general appearance of Research In Motion's (RIM) first BlackBerry 10 smartphone, the all-touch "L-Series," is no secret; images and video of the upcoming handset have been slowly leaking for the past couple of months. But today, a Vietnamese tech site posted the first set of high-resolution photos of the BlackBerry 10 L-Series handset, along with a five-minute video that gives an in-depth look at the phone and compares it to RIM's Dev Alpha BlackBerry 10 developer smartphone and Apple's popular iPhone 5.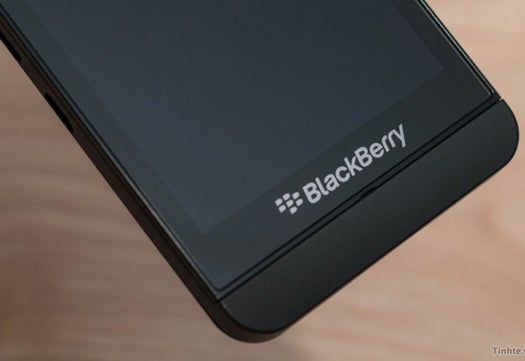 The L Series device featured in the images and video appears to be final hardware, or at least very close to final hardware. It isn't bad looking, and its design is infinitely more modern than RIM's previous touch-screen devices. But it is also still kind of blocky looking, and it probably won't be winning any Most-Handsome-Handset-of-2013 contests. The video provides one of first looks at the L Series's contoured battery cover, but there really aren't too many surprises. The creators of the video and images were also wise enough to cover the PIN numbers RIM packed into the corners of the display in pre-released builds of BlackBerry 10, in an effort to reduce leaks and be able to identify devices that show up in unsanctioned videos. (Note the teal-colored tape on the corners of the display in the video below.)
RIM is set to launch BlackBerry 10 on January 30, with the L-Series release expected within weeks of that date, followed by the BlackBerry 10 full-QWERTY "N Series" a few more weeks, or possible months, later. Hit the link below for a number of additional high-resolution BlackBerry 10 L Series images. (And check out my hands-on first impressions of the first two BlackBerry 10 devices here.)
AS
Via Tinhte.vn
Al Sacco was a journalist, blogger and editor who covers the fast-paced mobile beat for CIO.com and IDG Enterprise, with a focus on wearable tech, smartphones and tablet PCs. Al managed CIO.com writers and contributors, covered news, and shared insightful expert analysis of key industry happenings. He also wrote a wide variety of tutorials and how-tos to help readers get the most out of their gadgets, and regularly offered up recommendations on software for a number of mobile platforms. Al resides in Boston and is a passionate reader, traveler, beer lover, film buff and Red Sox fan.