The fiery Scott Forstall – the one-time protégé of Steve Jobs – is out at Apple. The 43-year-old senior vice president of iOS software reportedly didn't get along with other top Apple executives and was dismissed by CEO Tim Cook this week, his duties distributed among the company's committee of power brokers.
Looks like kinder, gentler folk are now running the place in Cupertino, yet another change in the changing face of Apple in the post-Steve Jobs era.
In one of the silliest quotes about Forstall's ousting, a source close to the matter told the Wall Street Journal that the 15-year Apple veteran and one of the original architects of Mac OS X "never fit into the culture of Apple." With a quote like that, such sources should be pressured to give up their identities or have their anonymous comments disregarded.
The truth is, Forstall most resembled the hot-tempered Jobs and he helped create the culture of Apple. He vocalized his displeasure to the iOS software team that it wasn't working on enough big ideas. He lamented the lack of a "decider" with Jobs gone. More than anyone, Forstall embodied the passion-filled Apple culture.
In his place are the guys that brought you, most recently, the iPad Mini. As much as marketing chief Phil Schiller demanded on stage that the iPad Mini wasn't just a shrunken version of the iPad, everyone knows that this is exactly what it is.
So this is what goes for innovation at Apple these days?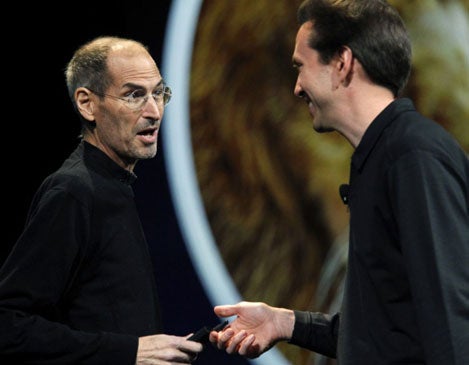 Innovation often requires someone to take bold action, and Forstall was known to be a risk-taker. A committee, on the other hand, drives consensus – the opposite of risk-taking – which is probably why the late Jobs hated committees. Now comes Cook's statement that recent management changes would "encourage even more collaboration."
The breaking point, according to news reports, was that Forstall refused to sign a public apology for the error-riddled Apple Maps app. Instead, the mild-mannered Cook signed his name. But it's Forstall who most resembles Jobs in this instance – Jobs also didn't want to apologize for the iPhone 4's connectivity problems, dubbed Antennagate.
Risk takers need to be supremely confident in their decisions in order to make them, which don't lend themselves well to apologies afterward.
Slideshow: Apple Innovation: 10 Future Tech Ideas
Critics of Forstall will claim he was a cancer at Apple. A senior Apple employee told the New York Times that Forstall's ousting was "better than the Giants winning the World Series. People are really excited." There is some truth to removing troublemakers from the locker room for the sake of team unity.
Of course, it'll take a while to learn if Forstall's firing is a net win or loss for Apple. Does Apple need a fiery shot-caller like Forstall? Can Eddy Cue, who will take over development of Maps and Siri, Craig Federighi, who will lead both iOS and OS X teams, and Jonathan Ive, who will now have total control over Apple's magical user interface, fill the void?
And then there's the big question: Can a soft Apple still innovate?