Whether Hurricane Sandy ultimately turns out to be "the storm of the century" or just a bad nor'easter still remains to be seen. Regardless, Sandy is not a storm to be taken lightly. Millions of people are likely to lose power for days. If you're in Sandy's range, you should make sure your smartphone and tablet are charged while you still have power. It's also a good idea to download one or more of the following apps now, because you many need them later.
* The American Red Cross's free Hurricane app for iOS and Android uses your current location to send real-time hurricane and flooding alerts from the National Oceanic and Atmospheric Administration. The app tells you what you can do before during, and after the hurricane hits. And it offers tips for planning ahead. The "safe message" tool lets you easily notify people via Twitter, Facebook, text message or email that you're safe. There's also a hurricane preparation quiz that's worth taking.
* The FEMA App is geared more toward preparing for a disaster than surviving one as it happens, but it offers a map for open shelters and FEMA disaster recovery centers. Free for iOS, Android, and BlackBerry.
* Hurricane by Kitty Code ($3, iOS) is one of the slickest hurricane-tracking apps available. Its features include video updates from HurricaneTrack.com; tracking, satellite and other maps; updated hurricane bulletins; and information about hurricanes from previous years, going all the way back to 1851. You can also get push notifications to keep you updated.
* Hurricane Hound for Android has a free version and a $2 version without ads. The apps use Google Maps to display trajectories and forecasts of active Atlantic and East-Pacific hurricanes and tropical storms. Both apps display areas that the National Weather Service is watching for possible development and provide constantly updated U.S. radar and weather satellite data.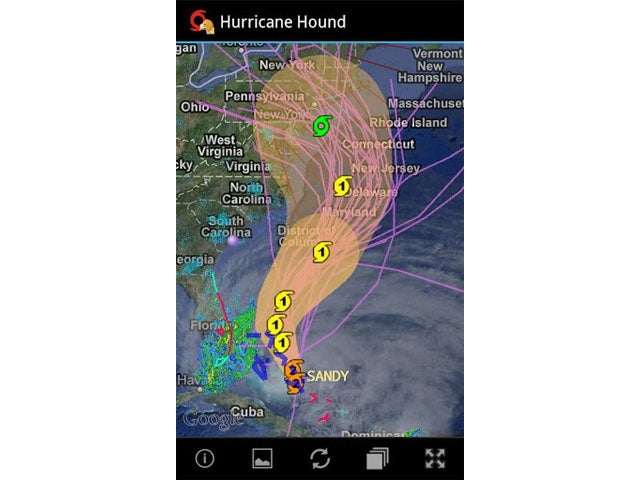 Which apps do you use to stay safe during hurricanes or other potential disasters? Please share your thoughts in the comments below.