There is no shortage of apps that deliver news to your iPhone or iPod touch. But none of those apps are quite like Circa News, a recently released free iOS app that breaks down the latest news stories into easily-digestible, attractively-presented chunks.
Unlike other apps that simply aggregate news articles, an editorial team develops brief news stories to post on Circa News. The team's goal is to serve up the most interesting breaking news in a way that's optimized for reading on a small iOS screen. You scroll through news headlines, and then click a story that interests you. As you swipe through the story, you see one brief paragraph per screen, often accompanied by a graphic (such as a map or a boxed quote). No long articles to scroll through.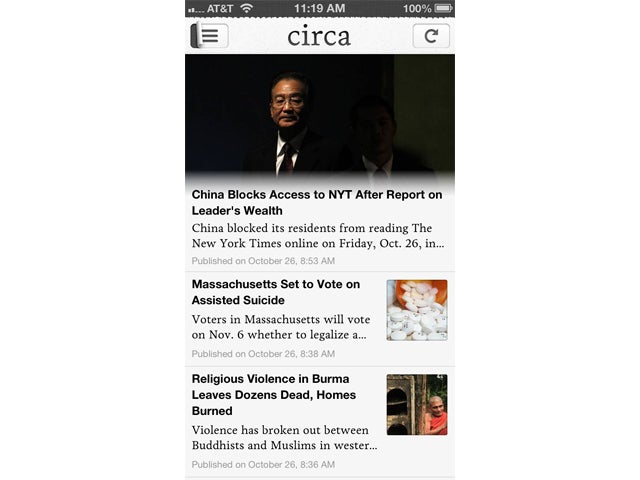 You can click a "+" button to add an article to your list of followed stories. Social sharing options let you share just a part of a story or the entire article on Twitter or Facebook (but not LinkedIn or Google+, unfortunnately). And in each story, the editors include links to related stories, as well as the news articles sourced for the Circa News story.
And that's pretty much it. You won't find a lot of features and options with Circa News. For instance, you can't customize the news stream by focusing only on certain topics, such as business or sports, although there is currently an Election News stream you can read. But I don't mind that, because to me, the point of this app is to quickly give you a broad picture of what's going on in the world at a given time.
Circa News is visually appealing, which makes you want to read the brief articles behind the headlines. It's delightfully focused on keeping you updated on breaking news. And it's now my go-to app when I'm stuck in a grocery store checkout line.