Logitech's Harmony Touch remote control makes powering up your home entertainment system device by device a thing of the past.
The Logitech Harmony Touch's sculpted shape make it fit well in the hand
Setting up the Harmony Touch
To setup the Logitech Harmony Touch you need to connect it to an Internet-connected Mac or PC via USB cable. Then you visit www.myharmony.com from your computer, and create a free user account. The site instructs you to install Silverlight and another required software tool, and it eventually brings you to a Web-based control panel that you can use to configure the Harmony Touch.
I found the setup to be intuitive and painless. It takes some initial leg work to find all the devices you plan to use with the Harmony Touch, but that's a one-time thing. After the remote is configured, you need to sync the device to send the changes to the Harmony Touch. The sync process took me about 5 minutes the first time and only a minute or so for subsequent changes.
My Experience with the Harmony Touch
Unlike a traditional remote control, the Harmony Touch lets you group a number of related commands into an "Activity," such as "Watch TV" or "Watch a Movie." Tapping the "Watch TV" icon on the remote's touch screen could, for example, automatically switch on your TV and cable setup box, switch your TV to the correct input source and assign the remote's volume control toggle to the TV–all in a few seconds. Nearly every aspect of these Activities are configurable, and you can setup as many of them as you like.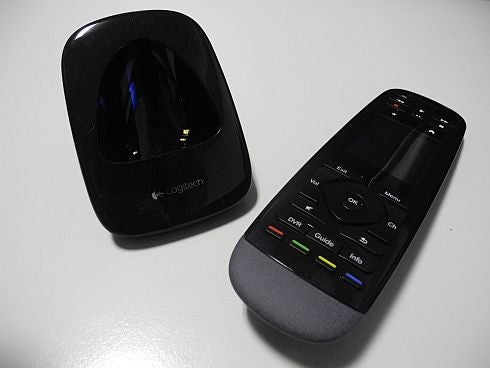 The Logitech Harmony Touch and the included charging cradle.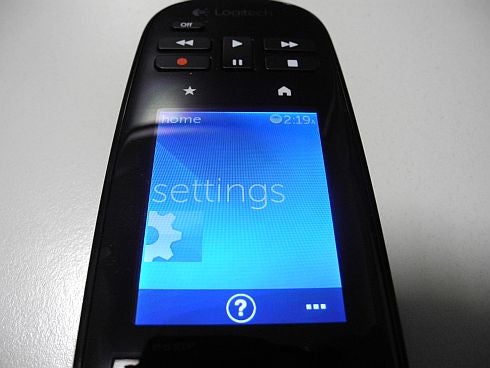 The touch screen displays the current time and battery level
The touch screen can also be used to navigate to a menu of individual appliances. In my experience, all of the pertinent commands were automatically added, and the Harmony Touch "learns" any new commands you may want to add from your existing remotes. Buttons can be programmed to perform different tasks, and you can also create a list of favorite channels for quick access.
Overall, I found the Harmony Touch's display to be very snappy and a pleasure to use. The backlit buttons proved to be highly useful in dim environments. If I have one complaint, it would be how the surface of the Harmony Touch is made of a highly glossy plastic that quickly and easily collects fingerprints. Fortunately, the bottom of the remote is made of a matte substance that allows for a firm grip.
Conclusion: Harmony Touch
The Harmony Touch is priced at $250, so it's not cheap. For folks with racks of stereo and multimedia appliances though, the Harmony Touch is a highly advanced remote control that should work with most if not all of their various gadgets.