Facebook fans are going to be very happy with Firefox 17, the latest version of Mozilla's open-source browser.
Firefox 17 lets users add a sidebar to the browser that runs Facebook Messenger. The sidebar shows Facebook Friends' online status and if they're reachable by chat. And it shows notifications and messages when an icon is clicked–there's no need to leave the page. And the sidebar can be closed when not in use for more screen real estate.
The new release also contains an important security update. Whenever users launch Adobe Reader, Adobe Flash or Microsoft Silverlight, Firefox now checks to see that they are secure and that they're updated to latest versions. If not, the plugins don't load, and the browser displays the following warning:

Given the history of security problems associaed with these plugins, this is an important feature. Mozilla also plans to add more plugins to that list in the future.
More Social Media Integration Coming
The integration with Facebook is the first step in broader Firefox ties with popular social media services. Mozilla published a new set of APIs (application programming interfaces) that let developers tie their applications to the browser.
Mozilla says developers are likely to add support for other services, such as email and Twitter. In an interview with TechCrunch, Mozilla's VP of Firefox Engineering Jonathan Nightingale said visiting social media sites by opening and closing them in a standard tab doesn't fit the way people interact with them. Mozilla tried to solve this problem by adding app tabs to Firefox, "but people still had to work around the limitations of browsers because they were treating social just like any other sites," he said.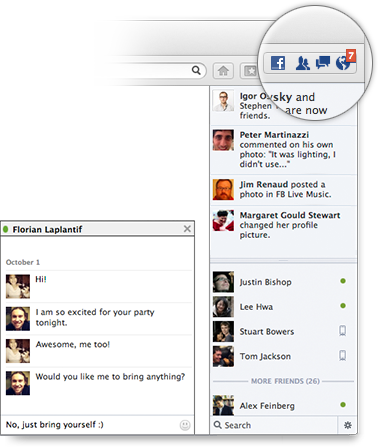 Adding the Messenger sidebar to your Firefox browser is very easy. Simply go to the Messenger for Firefox site and click the button that says "Turn On," and you're done. You'll then see the sidebar and a series of little icons on the right side of the toolbar.
As I mentioned, you can hide the sidebar by unchecking a box under the new Facebook icon. If you decide you don't want to keep Messenger, you can uninstall with one click without hunting around on the addons page.
Mozilla updates its browser quite frequently, but the changes are usually minimal. Firefox 17, though, has signficant security and social media improvements. It's an especially worthwhile upgrade if you spend a lot of time using Facebook.
(Image source: Mozilla)