Roughly 24 million people are expected to board flights this Thanksgiving-travel season, according to Airlines for America. This coming Wednesday, Sunday and next Monday are supposed to be the season's busiest travel days, and the majority of flights on these days will be around 90 percent full. In other words, you better have some really good turkey waiting for you in your travel destination—or at least a strong drink.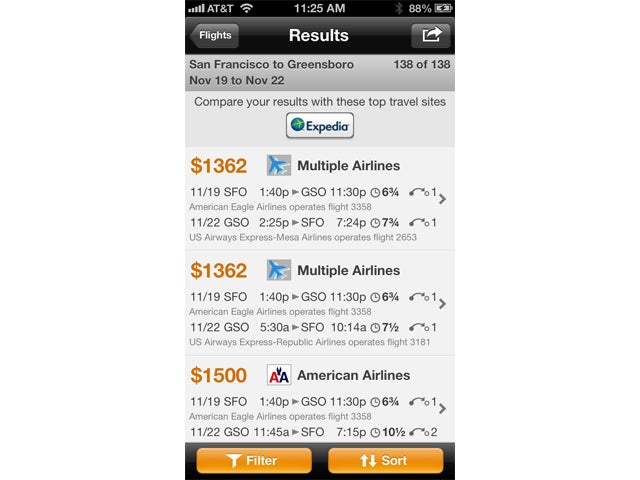 I also found three iOS apps that can help ease the pain of flight delays and cancellations. I highly recommend one of them, and the other two are also valuable but have "quirks."
* Flight+ serves up an extraordinary amount of airport and flight-related information. It lets you quickly check the status of arrivals and departures at a particular airport, view weather information and see airlines' current "flight boards." The app has its limitations, however. For example, I searched for flights from San Francisco to Greensboro, N.C. (where I'm from) leaving today. The app found none. While there are no direct flights on this route today, there are plenty of itineraries with one or more stops. Also, the app only showed me one flight to Charlotte, N.C., which is about 90 minutes by car from Greensboro. Flight+ is available in free and $2 (ad-free) versions for iPods and iPhones, and free and $5 versions for iPads.
* Next Flight does just what its name implies: helps you find upcoming flights leaving from a specified airport. You can filter the results by airline, and you can check to see the current status of flights and their departing gates. However, like Flight+, it found no flights to Greensboro and showed me only direct flights to Charlotte. The app is $3 for iPhone, iPod touch and iPad.
* Kayak is one of the best all-around travel apps, and it continues to gain useful features. If you're stuck in an airport because of a missed or cancelled connecting flight, Kayak's robust search engine helps you quickly find other flights—yes, even to Greensboro—on the day of your choice. You can filter flights by airline, number of stops, airport, price and time. Kayak also lets you search for hotels and rental cars; includes an airline phone directory; displays checked baggage fees by airline; and now includes airport information from GateGuru, another stellar travel app. And it does all this in one easy-to-navigate interface. Kayak is available in free and $1 versions for iPods and iPhones and free and $1 versions for the iPad. The paid Kayak Pro app also adds airport terminal maps.