UPDATE 2: I just got the following response from Google PR: "In July we announced the consumer delay of Nexus Q, we do not have any further news to share at this time." I'm unsure of when Google removed the Nexus Q from its Nexus webpage, but I'm almost positive it was much later than July. Either way, the Nexus Q has not been available for some time.
UPDATE: Shortly after I posted this entry, a number of readers reached out to let me know that Google stopped selling the Nexus Q months ago. Customers who preordered the device received one for free, and Google stated that it's working on a better device. I didn't know that; my mistake. Regardless, the Q isn't listed on the Nexus page anymore, which may not bode well for future versions.
Last week, Google announced its latest lineup of Nexus devices, including a new smartphone and a new tablet. Google's Nexus devices are designed to give users a true, unfettered Android experience, and they're particularly popular with "Android purists," because Nexus devices get Google's software updates before other carrier-managed Android devices.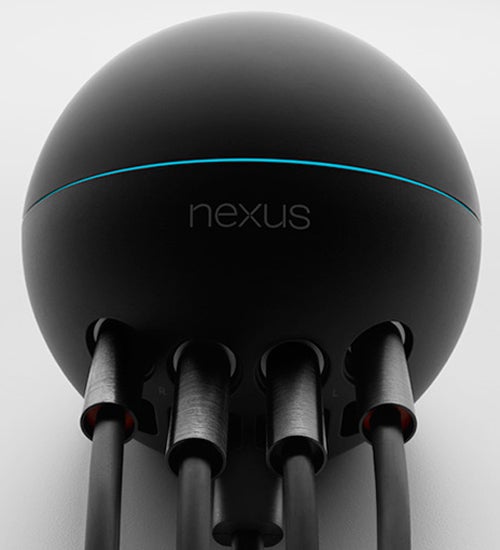 Google Nexus Q
Amidst all the new Nexus noise, the company also seemingly did away with another relatively-new Nexus device: The Nexus Q "social streaming media player."
The Nexus Q is a Wi-Fi-enabled, sphere-shaped media player that connects to your TV, speakers and/or home-entertainment system and lets you stream media from your smartphone or tablet through the Nexus Q to your audio/video systems. The Nexus Q was announced last summer during Google's annual I/O developer conference, and it was listed for sale via Google's Play Store shortly thereafter. But less than five months from its release date, Google pulled the product from the Play Store and removed all mention of the device from its Nexus webpage.
I own a Nexus Q, and to be honest, I'm not surprised Google decided to stop selling it—at least for the time being. It's unclear if the Nexus Q will be sold again in the future, but it seems unlikely. (I reached out to Google for an official comment, and I will update this post accordingly as soon as I hear back.)
The Nexus Q looks cool, but I hardly ever use it. That's because I don't really buy movies or TV shows from Google; I prefer Amazon.com's online streaming service. (I always kind of thought of the Nexus Q as a ploy to draw Android users into Google's media ecosystem by forcing them to buy content from Google so they stream it to their Nexus Qs.) I don't have a standalone home-entertainment system, and I already have an Internet-connected TV. So the only time I ever use the Nexus Q is when friends come over and ask something along the lines of "What the hell is that weird sphere-thingee next to the TV?"
I also don't know anyone else who owns a Nexus Q. I've never heard anyone talk about it on Twitter or other social networks, which shows a lack of consumer interest. And it wasn't cheap, at $299.
Who knows, maybe the thing will become a collector's item. For now, it will continue to collect dust next to my TV, until I need the space for another new home-entertainment gadget, at which time the Nexus will be resigned to The Land of Misfit Tech Toys, i.e., my desk's bottom left drawer.
RIP, Google Nexus Q.
AS