It seems like only yesterday that Google introduced "Handwrite" a feature that lets you search by scribbling on a mobile device instead of typing. Actually, that was introduced just three months ago, and the search mavens at Google have already one upped themselves, this week introducing voice search for iOS. And I have to say, it is very cool and altogether useful.
Say you're wondering when Daylight Savings Time ends. Simply fire up Google search, press the little microphone icon on your iPhone or iPad and ask "When does Daylight Savings Time end?" In just a second or so, a fairly natural voice will respond with the correct answer — it began Sunday, March 11 and will end Sunday, November 4.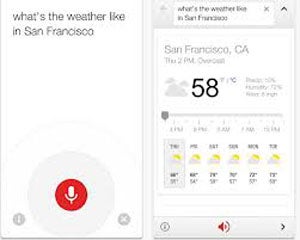 Or you could try a harder one by asking: "What does AT&T Park look like," and quickly get a gallery of pictures of the home of the San Francisco Giants. Cool. Then I asked it, "How do I get to Dolores Park?" and was quickly told it was six minutes from my house and it showed me a map. When I touched the map, I was then taken to the familiar Google Maps app that's still on my iPhone and got the usual map with its purple lines showing me where to drive. (A good reason not to run iOS 6, by the way.)
And while the speech recognition itself is pretty good, it isn't perfect. Asking for an image of "Coit Tower," it decided to look for "Quite Tower," and came up with the Tower of London.
Still, it's rather amazing considering that speech recognition software used to be expensive and cumbersome, and generally required users to "train" it and themselves before the software recognized even simple phrases. But now that so many computing tasks are carried out by servers in the cloud, speech recognition has become cheap, easy to use and surprisingly accurate.
It's easy to view voice search as a competitor to Apple's Siri, but I'm not sure that's a very good comparison. Siri acts as a digital assistant, however imperfect, and responds to commands about all sorts of things. You can, for example, ask it to create an appointment or a reminder. But Voice Search is all about search. And while that covers a lot of territory, it isn't really the same sort of thing.
Nevertheless, Google's Voice Search for iOS is a must have. (It's been working on Android for some time.) You can download the app here; it's very easy to install and you'll be using it immediately.