Logitech's BH320 USB Stereo Earbuds are designed specifically for use in PC-based audio and video calls. They're compatible with all of the leading UC platforms including Microsoft Lync and Skype, and Logitech says the "barely-there design" delivers a discreet and minimalistic look.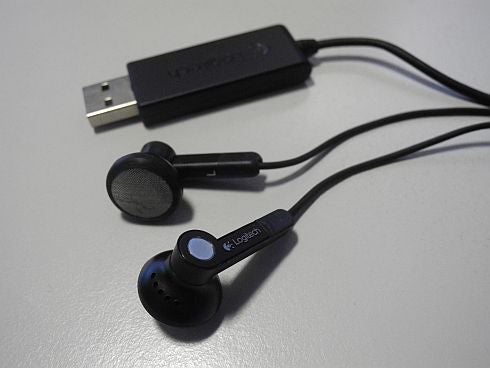 The in-line control on the Logitech BH320 USB Stereo Earbuds
As the name implies, the Logitech BH320 plugs into a USB port on your laptop or desktop–it does not come with a headset or microphone connector. The key advantage offered by the BH320 lies in its integrated soundcard, which is an important consideration because some manufacturers have started removing microphone-in jacks from newer laptops.
The earbuds themselves feature a fairly standard design, but they don't have earbud covers or any way to adjust size for a better fit. An in-line control lets you quickly adjust volume, and another button is for answering and ending calls. The microphone has an adjustable clip to make sure it stays in position.
I tested the BH320 using a Windows 7 PC, but Logitech says it is also compatible with Macs and Linux machines. My PC automatically detected the BH320, and it was quickly ready to use. Adjusting the volume using the in-line control brings up an on-screen volume bar that shows the current volume level.
Overall, the BH320 worked well and offered good sound quality. The earbud wires can get tangled easily, but the included travel pouch helps to keep things in order when they're not in use.
Conclusion: Logitech BH320 USB Stereo Earbuds
At $80, the price for a BH320 is a bit steep. But if you use a PC that doesn't have a mic-in line, these earbuds will meet your audio-calling needs.