Nigeria, home to countless bankers, princes and businessmen who all need your help accessing their funds, is becoming a huge target for cyber criminals.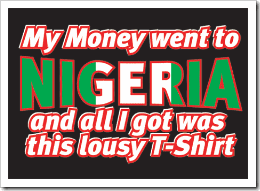 Gordon Love, Symantec's regional director for Africa, told BusinessDayOnline of Nigeria the country's growing economy and rapidly increasing bandwidth make it a plum target for hackers.
"Nigeria is a target for cyber criminals globally. The booming economy, increase in bandwidth and the proliferation of mobile devices are some of the reasons why Nigeria is such a huge attraction for cyber criminals," Love said.
He then added the most unintentionally ironic statement of the year: "The problem is that Nigeria does not really appreciate the magnitude of cybercrime and how it can derail an economy."
So don't feel too bad if you can't get the rest of your company to follow basic security procedures. Neither can Nigeria, and cybercrime is one of its leading industries.
Nigeria's reputation is so bad that a few years ago it launched a rebranding campaign:
"At international airports, in trains, in shopping malls, and almost everywhere, every Nigerian is a marked person," Dora Akunyili, information minister and self-styled chief image maker said at the launch of the re-branding campaign. "We are pulled aside for questioning. We are seen as potential drug pushers or fraudsters. We are unfortunately denied the benefit of the doubt."
For some reason the slogan "Nigeria: Good People, Great Nation" never caught on in the rest of the world. Maybe it should have added, "At least we're not Goldman Sachs."
Nigeria's place in the spam-scam world was very nicely captured by Cap News in a fine piece of satirical news headlined: Spam Futures Decline On Weaker Demand For Cialis. From the article"
"Simple mail transfer protocol delivery success rates were lower than expected at the closing bell yesterday, leading the American Registry for Internet Numbers to reduce growth forecasts for the East Asia and Pacific region. Speculation that a slowdown in email viruses originating in China could dip worldwide markets into a false sense of security fueled concerns of a slow recovery.
"'Nigeria has stepped up where China has backed down,' said CAP News Internet Expert Randall Kiper. 'Consumers may be seeing fewer Chinese viruses, but Nigerian royalty are coming out of the woodwork looking for overseas bank accounts into which to transfer their fortunes.
"'It's a market of attention, so the question is – can Nigeria outdo lower auto rates and Olive Garden gift cards?' questioned Kiper. 'I say not when there's also a free iPad offer staring me in the face. You can't compete with that.'"
Bravo.
It should be noted that Nigeria is a magnet for irony. Just two years ago the nation charged Dick Cheney and Halliburton with bribery. That's like Russia telling Ireland it has a drinking problem.