Jabra says its Solemate Bluetooth speaker is a go-anywhere, do-anything portable speaker that's built to withstand the rigors of the outdoors.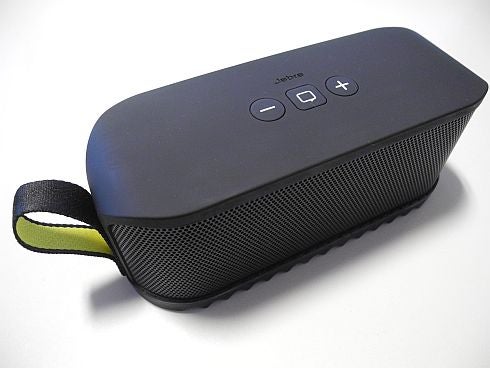 The Solemate gets part of its name (sole) from its thick rubber base, which is formed to look like the sole of a shoe. The rubber offers protection from dings and scratches, and it is washable. The entire speaker is covered with high-quality metal grills, and the plastic top- and side-edges stick out just slightly to protect it from drops.
In my tests, the Jabra Solemate produced music playback that is surprisingly pleasant, with reasonably deep base that's impressive for its size. It is also plenty loud, and it should be suitable for a small gathering of friends at a barbeque or picnic. An embedded omnidirectional microphone also lets the Solemate work as a speakerphone during video chats using apps such as Skype or Google Talk.
The Jabra Solemate comes with a "sound bag" that offers outdoor protection from sand and rain. The drawstring pouch weighs practically nothing, and it has no discernible effect on music when wrapped around the portable speaker.
Bluetooth and battery-icon lights
A 3.5mm audio cable embedded in the Solemate's base
The controls and indicators along the side are well placed, as is the volume control on the top. When connected to my iPhone, a battery bar on my phone's screen showed me the charge level of the speaker. The internal batteries offer up to 8 hours of continuous play, according to Jabra, and you power the gadget up using a micro-USB charger.
One complaint: The audio/voice prompts when switching the speaker on/off or when pairing it are too loud, and you cannot adjust them.
Conclusion: Jabra Solemate
Priced at $200, the Jabra Solemate is pitted squarely against the popular Jawbone Jambox. It compares well on the music playback front, and its more rugged exterior, clever embedded storage for the 3.5mm audio cable and sound bag give it a slight advantage. The Solemate is available in black and white.