As we head toward the general release of Windows 8 on Friday one question is rising above the rest: What the hell is Windows RT?
For those of us who've been following the Windows 8 saga, the difference is clear enough.
Windows 8 is the full monty, the full client OS running on x86 processors from Intel and AMD. It will run on both PCs and tablets, have touch-screen capability and will be able to run all Windows legacy apps such as Photoshop, Quicken, Windows Media Player and Outlook. Windows 8 tablets will be slightly bigger, heavier and more expensive than Windows RT tablets.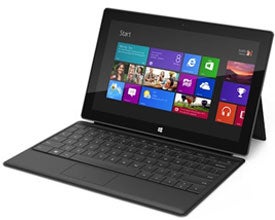 Windows RT, on the other hand, is a slimmed-down version of Windows 8 aimed at consumers. It will run on ARM-based processors on multi-touch tablets only and will not be able to run traditional Windows applications. You can't install programs on Windows RT other than the tablet-optimized apps found in the Windows App Store.
Microsoft's in-house Surface tablets will run both Windows RT and Windows 8. The Windows RT Surface tablets will be available starting Friday. As for the Windows 8 Pro Surface tablets, Microsoft's is waiting until January to release them, likely as a way to give hardware partners a few months to sell some Windows 8 tablets without any "Surface" distractions.
Microsoft has not done a very good job of clarifying these differences; even Microsoft in-store employees are having trouble distinguishing, according to The Verge.
It's been mostly up to journalists and industry analysts to explain the key differences between Windows 8 and Windows RT. Here is a great explanation from ITWorld.
So now you might ask: What good is the watered-down Windows RT if it relies solely on the Windows App Store and can't run any of the traditional "stuff" Windows users are accustomed to having.
True, this will hamper Windows RT tablets in the corporate world, where legacy apps and the use of features Active Directory are essential, but Windows RT has many benefits that may not be apparent now, yet will position Microsoft well for not-so-distant future.
In Pictures: The Best of Windows 8 Hardware (So Far)
Windows 8 Tablets in the Enterprise: The Pros and Cons
In short, Windows RT will provide a faster (instant on and off) and more secure Windows experience with much better battery life than Windows 8. It is also more integrated with the cloud as the WinRT version of SkyDrive, Microsoft's cloud backup and sync service, is baked into the software.
Windows RT will operate more like iOS and Android on tablets, which are lean-and-mean walled gardens that rely heavily on apps downloaded from proprietary stores. For the time being, legacy support will reign in the enterprise – that is why you see so many Windows 8 tablets in production from hardware makers – but after some growing pains Windows RT will allow Microsoft to compete with Apple and Google in the post-PC world, writes veteran tech analyst and Forbes blogger Roger Kay.
This won't happen next month or next year, Kay writes, but it will happen and weighed-down Windows 8 tablets won't be up to snuff.
Kay predicts that "the need at the endpoint will be less about raw performance and more about low power … and endpoints will become neater, cleaner, tighter, smaller, more secure, and more mobile," concluding that "WinRT represents the best shot Microsoft has against Apple and Google."
Legacy support be damned.