The Sennheiser DW Office is a premium wireless headset that works with desk phones running VoIP software. Wireless DECT technology integrated right into the headset offers high-quality voice clarity and long-distance wireless range.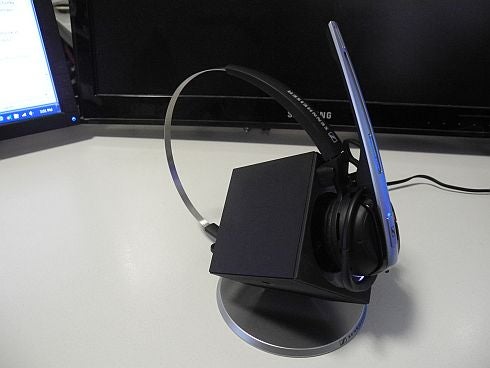 Base station for the Sennheiser DW Office
The Sennheiser DW Office comes with a base station and a wireless headset that has a detachable ear hook. The headset incorporates an electric-condenser microphone with noise-canceling features built into the boom microphone. The base station serves as both a dock for recharging the headset and a wireless transmitter.
The headset can be worn using an over-the-ear hook or a traditional over-the-head band for a more secure fit. The headset clips sturdily onto the base station thanks to the judicious use of magnets.
According to Sennheiser, the DW Office offers an average of eight hours of talk time. And it only takes 20 minutes of charging to get four hours of talk time. A bank of status lights on the base station makes it easy to keep track of battery-charge levels.
The headset and "headband"
Side-by-side: The "headband" and headset
To set up the DW Office, you just plug it in to your office phone and/or your computer with the included cables. No additional software is required; the DW Office automatically appears as a headset earphone and headset microphone on your PC. Tapping on the somewhat clunky plastic membrane button on the base unit switches communication channels.
I was impressed by the range of the headset, which worked for calls through three concrete walls. The headband was also very comfortable, and it held firmly in place without pressing down too hard on my ears. Unfortunately, headset output was only average, even though the microphone was highly sensitive and picked up surrounding sound easily, which could be a problem in noisy office environments.
Back view of the base station. Note the DIP switch along the bottom for making various tweaks.
Configuration details for the DIP switch on the dust cover
Conclusion: Sennheiser DW Office
The Sennheiser DW Office is a well-built, comfortable headset with impressive wireless range. But the steep price of $350 may turn off people who don't teleconference very often. The DW Office would also be more appealing if it worked with mobile phones via Bluetooth.