The ZAGGsparq 6000 is a stylish, portable-backup battery that connects to an AC wall socket for recharging, and it can also be used as a standard wall charger.
The ZAGGsparq 6000's LED lights show its remaining capacity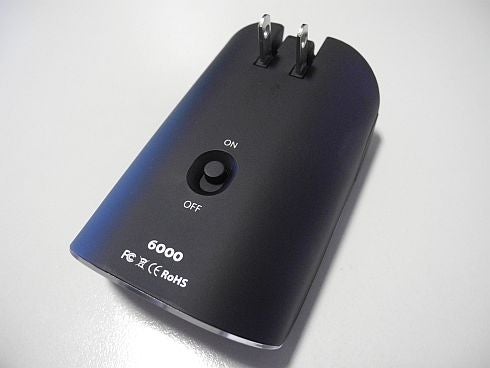 The on/off button is slightly recessed but easy to reach
Similar to the older ZAGGsparq 2.0 battery, the ZAGGsparq 6000 is a 6,000mAh battery, and it also comes with retractable prongs for plugging into a wall socket. The new portable battery comes with five LEDs that display its remaining capacity. Two USB ports allows multiple devices to be simultaneously juiced up.
The older ZAGGsparq 2.0 is flawed in that a fully-charged unit self-discharges to empty in about two weeks. According to ZAGG, the new ZAGGsparq 6000 comes with a physical on/off switch that should resolve the battery drain issue.
The portable battery will work with iOS devices and most Android smartphones and tablets, but it is not compatible with Google's Nexus 7 tablet or USB devices that use proprietary charging specifications. I was able to recharge an iPad, iPhone and Android smartphone, but the ZAGGsparq 6000 did not work with a BlackBerry smartphone.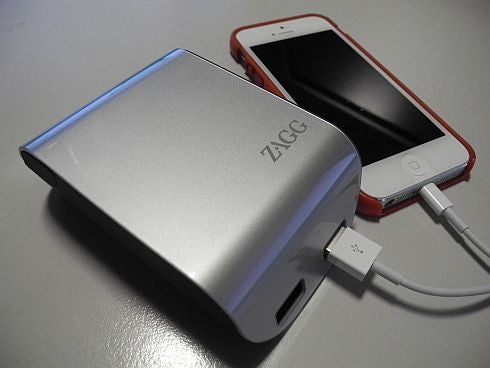 The ZAGGsparq 6000 charging an iPhone 5
The ZAGGsparq 6000 (left) beside the older ZAGGsparq 2.0
ZAGG learned from its mistakes in building the ZAGGsparq 2.0, and the ZAGGsparq 6000 is a better product. The polycarbonate shell of the ZAGGsparq 6000 does not collect fingerprints, unlike the earlier model.
The gadget costs $100, and frequent travelers or mobile workers will appreciate its dual utility as a USB charger and portable battery. But budget-conscious consumers may want to check out the lower capacity ZAGGsparq 3100 and ZAGGsparq 1220, which cost $70 and $40 respectively.