The Sony SmartWatch is designed to work with Android smartphones and tablets, and it connects to these gadgets via Bluetooth. It has a touch-sensitive and vibrant OLED display, you can access information on your mobile device using preinstalled widgets, and you can perform simple tasks such as answering or rejecting incoming calls.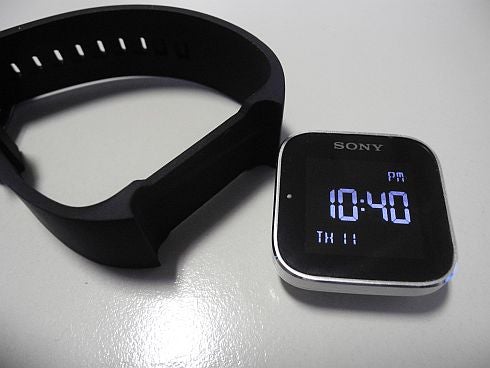 The Sony SmartWatch unclipped from its wristband adapter
Setting up the Sony SmartWatch
The Sony SmartWatch clips securely onto a wristband adapter that comes with the device, so you can wear it like a wristwatch. The gadget displays the time after it's setup. You can also use it with a standard 20mm (0.8-inch) wristband, according to Sony.
To use the SmartWatch, you need to install the free LiveWare manager app from Google Play on your Android device. The setup is easy, and I able to quickly pair the SmartWatch with an Xperia solar smartphone running Android.
Once my phone and the watch were paired, I just launched the LiveWare app, and it updated the SmartWatch firmware with the latest version. The SmartWatch remains in pairing mode until it is initialized by the LiveWare app.
Charging pins connect to a custom USB cable. Sony says the SmartWatch will get three to four days of battery life.
My Experience with the SmartWatch
I installed a number of modules from Google Play that I can access using the LiveWare app, which let me configure what appears on the SmartWatch. For example, it can display my Twitter and Facebook feeds or show my contacts and e-mail messages.
Other information such as text messages, the local weather or missed calls can also be displayed. Call-handling and music-player modules let you accept/reject incoming calls and manipulate the music player using the SmartWatch.
Overall, the interface is intuitive and visually appealing. And third-party software developers can download the free Smart Extension SDK to create their own plugins.
However, the SmartWatch display resolution is somewhat lacking. The modest (128×128) resolution and small display mean relatively little textual information can be displayed on a single screen. The surface of the SmartWatch display is also an oil magnet, and I have to repeatedly clean it.
Another gripe I have is the inability to adjust the backlight intensity and timeout feature, which aggressively dims and then switches off the display in about 10 seconds.
Conclusion: Sony SmartWatch
The Sony SmartWatch costs $150, which isn't exactly cheap. However, the SmartWatch has some real potential if Sony can bring the price down and address some of the shortcomings mentioned in the previous section.