If you just purchased an iPhone 5 and you're looking for cool accessories to add value to your new device, you'll want to check out the following three automobile accessories. (While you're at it, you should also check out my 5 Top-of-the-Line iPhone 5 Cases too.)
Griffin Window Mount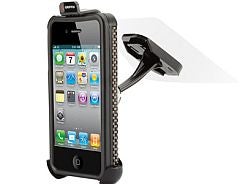 The Griffin Window Mount is a versatile window/dashboard smartphone mount, and it comes with an adjustable bracket that's big enough to accomdate most smartphones and smartphone cases. The contraption can be mounted onto a window using its built-in window mount that securely grips it to a glass surface. Or it can be attached to a dashboard using the included mounting base and adhesive. The Window Mount rotates 360 degrees so it can be used at any angle. The adjustable mounting cradle fit my iPhone 5 and BlackBerry smartphone quite well. Griffin says it also supports popular smartphones from HTC, Motorola and Samsung. The Griffin Window Mount is available for $20 from the company's website.
Jabra Freeway
Do you find yourself fumbling with your Bluetooth headset whenever you receive a call? If so, you should take a look at the Jabra Freeway. This high-quality speakerphone clips onto your car's visor and connects wirelessly to your smartphone via Bluetooth. Dual high-sensitivity microphones and built-in noise filtering circuits make for clear conversations. And its integrated FM transmitter lets you to wirelessly pipe your smartphone's music (or navigational instructions from a GPS app) to a car stereo system. Jabra says the Freeway delivers up to 14 hours of battery life, which was close to what I attained in my tests. The device powers itself off after a period of inactivity, and a built-in motion sensor turns it back on when you return to your vehicle. The Jabra Freeway costs $129.
Kensington Auto/Air Power Inverter
If you want the ability to power up your laptop while driving between sales appointments, then the Kensington Auto/Air Power Inverter with USB ports could be the right car accessory for you. You just plug the vehicle power plug into place, and the standard (U.S.) AC power plug provides up to 150 watts of power. Its two standard USB ports let you charge two smartphones or USB-powered devices simultaneously. And the inverter can be detached from the vehicle power plug and brought along on your next flight; it plugs directly into the power outlets found in many aircraft today. The Kensington Auto/Air Power inverter costs $70.