Evidence is building that Microsoft is making its own branded Windows Phone.
Originally the China Times issued an unsourced report saying Microsoft was making its own phone; now the popular Windows Phone blog WPCentral cites anonymous sources saying the same.
It may or may not be true. But is it even a good idea?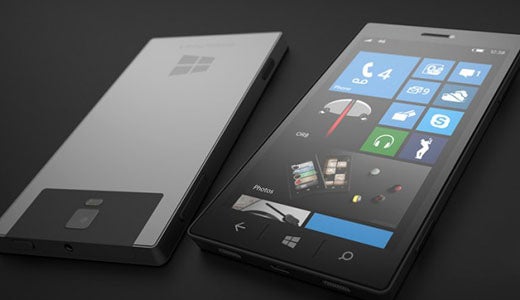 It's always good to have a contingency plan. Current Windows Phones from the likes of Nokia (exclusive partnership), Samsung and HTC have struggled to sell. The latest mobile market share numbers from comScore have Windows Phone at a lowly 3.8 percent in the U.S. There is still no official release date for Windows Phone 8, but it is expected to release shortly after Windows 8 on Oct. 26.
Nokia, in particular, has not been able to reach consumers despite a colorful and well-reviewed line of "Lumia" Windows Phones. Recently announced Nokia Lumia 920 and 820 phones running Windows Phone 8 generated buzz. But it's starting to feel like buzz, and not sales, is all that Nokia phones are capable of generating.
There is speculation that Microsoft is fed up with Nokia's poor performing Windows Phones and the company's insistence on emphasizing the "Lumia" name over "Windows Phone" in its branding. This could explain the big splash Microsoft gave HTC when the companies announced the Windows Phone 8X and 8S HTC phones two weeks ago.
The surprise announcement in June of a Microsoft-branded Windows 8 tablet, called Surface, shows that Microsoft is capable creating its own Windows hardware, and doing it secretly.
I, for one, think Microsoft should wait and see how the Surface tablets fare in the marketplace before dropping a Microsoft phone into the ultra-competitive smartphone jungle.
Microsoft has had a hell of a time getting a foot in the door in mobile even with help from popular hardware makers. However, the strategy of partnering with OEMs, which has worked so well for Google's Android, is just not working for Windows Phones. So maybe Microsoft should do as Apple does and control all components. It could free up Microsoft to simplify Windows Phone marketing and present its true unfiltered vision of the phone.
Problem is, nearly all of Microsoft's previous attempts to control hardware and software have failed (Xbox is the exception), and there's no indication that a Microsoft-branded Windows Phone will be any different.
What do you think? Take the poll below.