The Kensington Auto/Air Power Inverter with USB Ports plug into your vehicle's cigarette-lighter/power port or a compatible airplane power outlet. The gadget has two USB ports, and it can be used to charge two USB-type devices. And it also comes with a standard (U.S.) AC power plug that provide up to 150 watts of power.
The Kensington Auto/Air Power Inverter standard U.S. wall outlet (right) and two USB ports (left)
The device comes in two parts: a vehicle power plug with an airline-type power outlet; and an inverter with the integrated USB ports and wall outlet. The inverter section can be detached and used with the power outlets found in many aircraft today. Its slim and lightweight form factor is smaller than some laptop-power adapters I've seen, and it is compact enough to stash in a vehicle glovebox or laptop bag.
Kensington's Auto/Air Power Inverter with USB Ports comes with safety features that automatically shut down the gadget if it experiences changes in power, to protect connected devices. An internal fan helps regulate the temperature of the inverter, which provides roughly 150 watts of peak power for five minutes and 120 watts of continuous power.
Not all devices are compatible with the Auto/Air Power Inverter, though. High-drain devices such as microwave ovens, toasters, kettles and hair dryers are not supported. Kensington also does not recommend using the gadget to power up devices such as pumps, compressors and fluorescent lamps. However, it works quite well for powering and recharging most laptops and other mobile gadgets.
The underside of the Power Inverter. A small fan is located under the grills..
Using the Auto/Air Power Inverter
In my tests, the Power Inverter did not work with the "Rapid Charge" adapter that comes with the newly released Lenovo ThinkPad X1. The laptop switched between "charging" and "battery" modes–which, according to the instruction manual, happens when a device attempts to draw more power than is available.
On the other hand, the Power Inverter had no problems with the Sony Z Series laptop's 90-watt laptop adapter or with other standard AC devices. Most laptops come with 70- to 80-watt adapters, so the charger should work well with the majority of notebook PCs.
The inverter gets warm when in use, but not too hot. One downside: the USB ports are standard 0.5A ports that will not charge iPad tablets.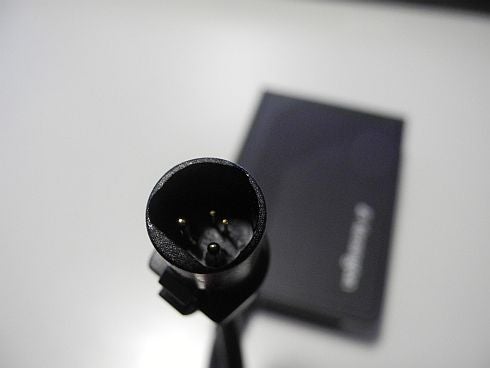 The Power Inverter comes with a plug that will work on most airplanes
The inverter section plugged into the vehicle power plug component
Conclusion: Auto/Air Power Inverter
The Kensington Auto/Air Power Inverter with USB ports has an attractive, slim-line design, and it's packed with a number of valuable safety features. Its price of $70 is a bit steep, but frequent flyers and salespeople who travel frequently will find it to be a great tool for keeping laptops and other tech gadgets powered up while on the move.